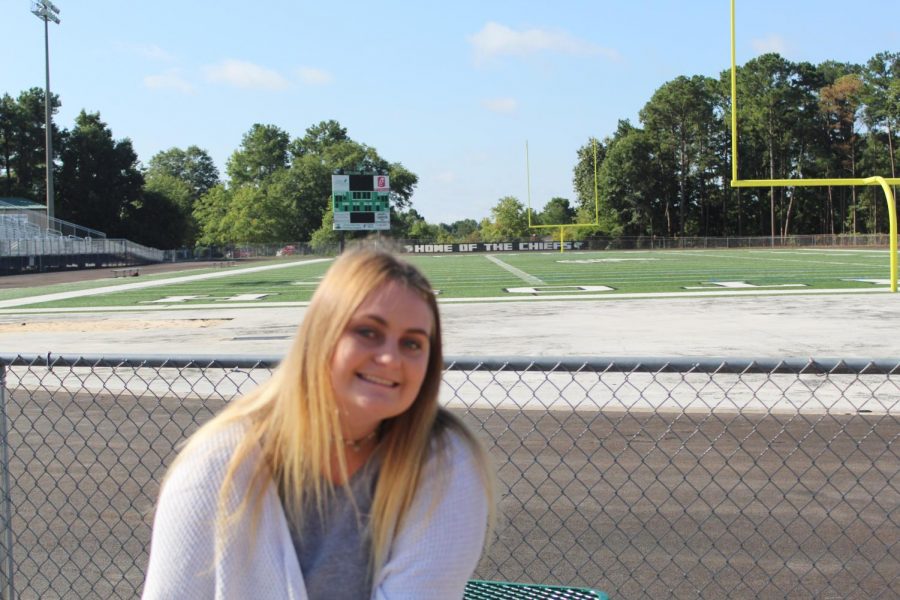 Senior Sam Cornett has been a part of the Trail staff since her freshman year. She held the Sports Editor position for both her sophomore and junior year, and is now the Editor in Chief.
Between being an editor for the
Trail
, Sam also writes for the local magazine,
Lake Kedron Living
. She also spends her free time working at Chick-fil-A. She participated in two years of the Lady Chiefs soccer program and most enjoys combining her love for sports with her journalism.
Samantha Cornett, Editor in Chief
Apr 29, 2020

Instead of being a senior, I am virtually learning : Sam Cornett

(Story/Media)

Apr 23, 2020

Senior Class to Have a July "Senior Weekend"

(Story)

Mar 27, 2020

2020 Olympics Officially Postponed due to COVID-19

(Story)

Mar 20, 2020

Premature End of an Era: Coronavirus' Effect on Graduating Seniors

(Story)

Mar 10, 2020

Fayette County Coronavirus Update: Closings and Food Distribution

(Story)

Feb 12, 2020

Varsity Girls Soccer takes tough loss against Lambert

(Story)

Jan 29, 2020

Touchdowns in Miami : Super Bowl LIV Preview

(Story)

Jan 10, 2020

The New England Patriots lose in wild card playoff game

(Story)

Dec 15, 2019

Chorus performs annual holiday concert

(Story/Media)

Dec 03, 2019

Swim team competes against school rival

(Story)

Nov 05, 2019

Volleyball team wins third consecutive state championship

(Story)

Oct 25, 2019

Chief News Outreach

(Story)

Oct 10, 2019

Police Line, Do Not Cross

(Media)

Sep 24, 2019

OPINION: Music Midtown is Worth the Hype

(Story)

Aug 27, 2019

French students travel to France for Summer Program

(Story)

Aug 27, 2019

The Trail Staff Opens New School Year with Guest Speaker

(Story)

May 16, 2019

New Department Locations Spur Reactions from Students

(Story)

May 07, 2019

Senior Legacy: Kamryn Torr

(Story)

Apr 17, 2019

Athlete of the Week: Ty Butler

(Story)

Apr 16, 2019

Athlete of the Week : Andrew Pinckney

(Story)

Mar 12, 2019

OPINION: A Seven Period Day is Not Okay

(Story)

Feb 27, 2019

Stephanie Yi : Athlete of the Week

(Story)

Feb 07, 2019

Student Athletes Participate In 2019 National Signing Day

(Media)

Feb 02, 2019

Basketball Chiefs Win Annual Battle of the Bubble

(Story)

Nov 12, 2018

Athlete of the Week: Dominique Savain

(Story)

Oct 21, 2018

Humans of McIntosh: Meet Riley Campbell

(Story)

Oct 21, 2018

Athlete of the Week: Maylen Meszar

(Story)

Oct 09, 2018

David High Teaches AP Euro to Build Program

(Story/Media)

Oct 09, 2018

Athlete of the Week : Rebecca Muh

(Story)

Oct 09, 2018

Best Festival of the Year : Music Midtown

(Story)

Aug 31, 2018

Athlete of the Week : Jessie Doyal

(Story)

Aug 10, 2018

Softball team starts off season in Hampton

(Story)

Aug 10, 2018

Varsity Football Attends Fayette County Football Media Day

(Story)

May 17, 2018

Senior Staff Member Alyssa Amaya Looks Forward to Playing Soccer at West Georgia

(Story)

Apr 17, 2018

Twitter User Claims the World is Ending on Wednesday

(Story)

Apr 13, 2018

MHS Soccer Celebrates Annual Senior Night

(Story)

Mar 14, 2018

Student Walkout Demonstrates Unified Commitment to Change

(Story)

Mar 07, 2018

Athlete of the Week: Hannah Ellison

(Story)

Feb 09, 2018

Athlete of the Week: Marie Ogletree

(Story)

Jan 24, 2018

Chiefs and Lady Chiefs Suffer Losses in Annual Battle of the Bubble

(Story)

Nov 27, 2017

Nicosia and Zayas On the Money With Their "Dancing with the Chiefettes" Routine

(Story)

Oct 27, 2017

Early Release Days Should Be Reconsidered By Fayette County

(Story)

Oct 04, 2017

Seniors Take Home Powderpuff Game Win

(Story)

Oct 04, 2017

Softball Team Supports Breast Cancer in Game Against Sandy Creek

(Story)

May 23, 2017

Soccer teams celebrate end of the season

(Story)

May 16, 2017

Chorus hosts annual Spring Gala

(Story)

May 15, 2017

Lady Chiefs win back to back state championships

(Story)

May 12, 2017

Lady Chiefs compete in first round of state playoffs

(Story)

May 12, 2017

Lady Chiefs soccer team advances in state playoffs

(Story)

Apr 19, 2017

Soccer teams compete in battle for the troops

(Story)

Mar 24, 2017

Varsity girls soccer compete against Whitewater Wildcats

(Story)

Mar 24, 2017

Freshmen soccer teams travel to Rome

(Story)

Mar 09, 2017

Girls varsity soccer competes against Fayette County

(Story)

Feb 07, 2017

Varsity girls soccer team competes in first scrimmage game

(Story)

Feb 07, 2017

Chiefs host battle of the bubble game

(Story/Media)

Feb 07, 2017

Varsity basketball team competes against Whitewater

(Story)

Jan 31, 2017

"Cinderella" cast holds tea party

(Story)

Dec 15, 2016

Dance team hosts annual Dancing with the Chiefettes

(Story)

Dec 15, 2016

Interact Club participates in Toys for Tots drive

(Story)

Nov 18, 2016

XC team places third at state championships

(Story)

Nov 14, 2016

Football team hosts annual pink out game

(Story)

Nov 10, 2016

Freshman moves up to varsity cheer team

(Story)

Oct 17, 2016

Football team hosts Fayette County for Homecoming game

(Story)

Oct 04, 2016

Freshman joins dance team

(Story)

Oct 04, 2016

Freshmen share insight on new football cheer season

(Story)

Oct 04, 2016

Chorus classes participates in International Day of Peace

(Story)