Softball team starts off season in Hampton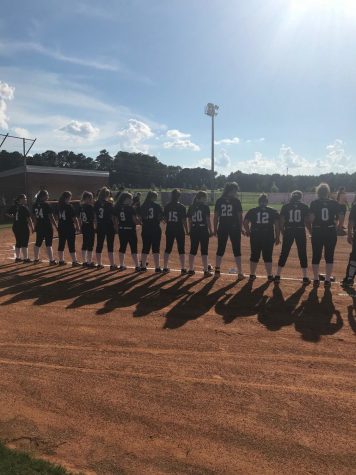 The varsity softball team started off their season traveling to Hampton High School on August 6.
The game was at a slow start until the first runs by McIntosh were made during the third inning. Sophomore Rebecca Muh hit a single at the top of the fourth inning, followed by a double from sophomore Ashlyn Gaines and a single by senior Cassidee Rotolo. Muh ran first making the score 1 to 0, followed by a walk from junior Emma Dunlap. Gaines came back to score on a pass ball to make the score 2 to 0, and then a run from Rotolo made the score 3 to 0 at the bottom of the third inning.
Hampton came back, scoring 3 runs at the bottom of the 7th to take the game into extra innings tied at 3 to 3. Hampton took the win over the Lady Chiefs 4 to 3 on a walk-off in the bottom of the 9th inning.
Muh pitched all 9 innings and had 14 strikeouts and allowed 4 runs off of 5 hits. "It was a great opening game," Muh said. "We played really well, but unfortunately, we came up short in extra innings. It was still a hard-fought game, though."
The team played their first home game August 7, with a win against Riverdale, 23-0. After a large victory against Riverdale, the team traveled to Whitewater to take on the Wildcats on Thursday and lost 9-1. The Chiefs will take on Starr's Mill at home on Tuesday, August 14 at 7 p.m.