Athlete of the Week: Maylen Meszar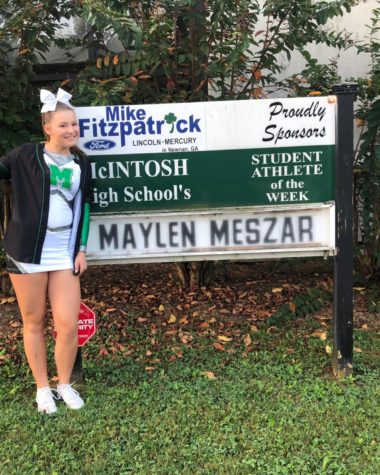 Junior Maylen Meszar was awarded with Athlete of the Week for the week of October 1.
Meszar has been cheerleading for seven years. Her freshman year she was on JV at McIntosh, then made the varsity team for the 2017 season as a sophomore.
During the team's 2017 season, they tied for first at state with a 106.33 out of 110. This year, Meszar said, "I was super excited that we scored a 106.67 out of 110 at our second competition, which is higher than our state score last year."
As far as cheer is concerned, she explained that it takes up the majority of her time.
She explained that "it has helped me with my time management and leadership skills a ton."
This season, Meszar spends about eight hours a week for practice, spends Friday's cheering for the football team, and most of her Saturday's at competitions. Her main goal for the team this season is to "score as close as possible to a 110."
At state last year, the team tied Carrollton. Since then the team has been working extremely hard to win back their state championship.
Meszar said, "I hope that my team can go out on the mat and do our best. We are working really hard this year to bring home a state ring."
Meszar will start her weekend off with cheering on the Chiefs football team tonight as they take on county rival, Starr's Mill High School. Her weekend will continue tomorrow morning when the competition cheerleading team travels to Peachtree Ridge in Suwanee, Georgia.