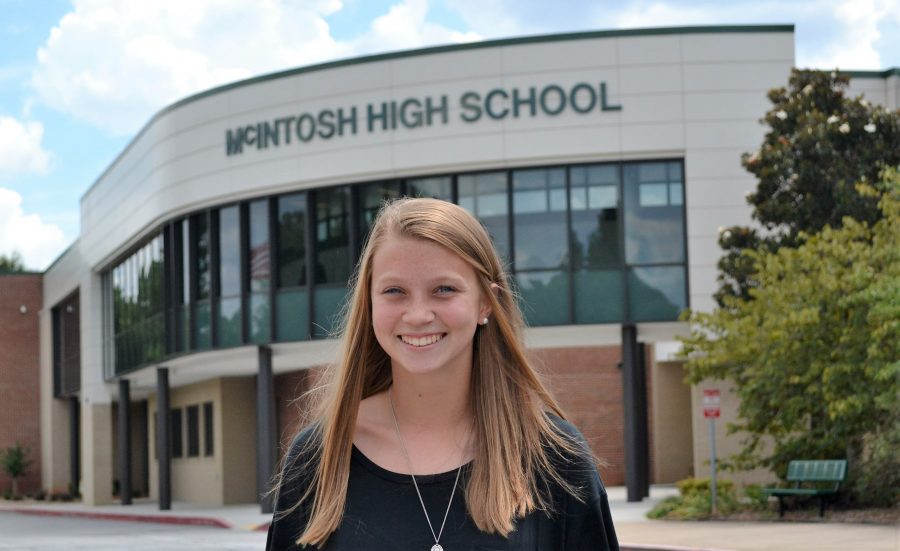 Sophomore, Kamryn Torr, born October 28, 2000, joined newspaper her freshman year and has returned to write for the McIntosh Trail. She played soccer for the school last year. She is looking forward to playing soccer throughout high school and is striving to receive a scholarship from Penn State or UNC.
Originally from Marietta, Kamryn moved to Peachtree City at 3.  Her family never owned any pets, and she still doesn't have a desire to because it would be inconvenient, as she focuses most of her time on school work and playing for a travel soccer team.  Being an athlete, she is most comfortable with writing articles revolving around sports and similar events having to do with school. If she were to describe herself using three emojis, she'd chose the soccer ball, the rolling eyes emoji, and the football. She would use the rolling eyes emoji because she makes a lot of sarcastic comments, to which people will roll their eyes. In choosing the football emoji, she noted her love for the Penn State football team and said, "I have an obsession with football and am  looking forward to playing powderpuff football my junior and senior year."
Along with being a student at McIntosh, and a devoted athlete, she is also a babysitter. Her inspiration is drawn from family members as they motivate her to work hard and strive to be the best student and player she can be. Her dad, mom, and sisters, Jordan and Peyton, all work hard and have each contributed to the person she has become and everything she has achieved.
Kamryn Torr, Sports Editor
May 10, 2019

Seniors' Last Friday Going Out Just Like The Electricity

(Story)

May 08, 2019

Tradition Comes to an End After Actions by Previous Class

(Story)

May 07, 2019

Katelyn Galbraith Shoots Her Shot by Committing to Western Carolina

(Story)

Apr 08, 2019

Bailey Lopez Reunites With Sister At Shorter University

(Story)

Mar 13, 2019

Ryan Sanders Commits to Becoming A Pioneer

(Story)

Mar 12, 2019

"Instant Family" Movie Review

(Story)

Mar 07, 2019

Jack Bukowski "Comets" To UT-Dallas

(Story)

Feb 27, 2019

Athlete of the Week: Huck McCollum

(Story)

Feb 13, 2019

Soccer Teams Kick Off The Season With Tryouts

(Story/Media)

Feb 07, 2019

Student Athletes Participate In 2019 National Signing Day

(Story)

Feb 02, 2019

Torr Time: Senioritis Isn't Easy To Avoid

(Story)

Dec 06, 2018

Torr Time: Extending The College Football Playoffs

(Story)

Nov 16, 2018

MHS Competitive Cheerleading

(Media)

Nov 16, 2018

Torr Time: Brain Injuries Could Be Preventing High School Players From Playing Football

(Story)

Nov 16, 2018

Senior Huck McCollum Officially Becomes A Mountain Lion

(Story)

Nov 06, 2018

Hoo? Hoo? It's Ty Butler "Hoo" Committed To The Owls

(Story)

Oct 21, 2018

Senior Baseball Player Commits to Birmingham Southern College

(Story)

Oct 08, 2018

Torr Time: The SEC and ACC Are Overhyped

(Story)

Oct 08, 2018

Athlete of the Week: Zach Jaeger

(Story)

Sep 18, 2018

Athlete of the Week: Kaitlyn Patterson

(Story)

Aug 31, 2018

College Football Season Returns

(Story/Media)

Aug 30, 2018

Athlete of the Week: Dane Kinamon

(Story/Media)

Aug 24, 2018

Varsity Football vs. Mundy's Mill

(Story/Media)

Aug 22, 2018

Varsity Chiefs Lose Season Opener Against Mundy's Mill

(Story/Media)

Aug 21, 2018

Four-Year Varsity Letterman Commits to The University of Alabama

(Story)

Aug 10, 2018

Class Officers For The Class Of 2019 Decorate The Senior Swamp

(Story)

Aug 10, 2018

Class Of 2019 Participates In Annual Parking Spot Decorating

(Story/Media)

Aug 10, 2018

Varsity Football Attends Fayette County Football Media Day

(Story/Media)

May 16, 2018

Lady Chiefs and Chiefs Face Defeat After Hard Fight In The State Championship Game

(Story)

May 10, 2018

Athlete of the Week: Stefan Blain

(Story)

Apr 24, 2018

Athlete of the Week: Ethan Ange

(Story)

Apr 18, 2018

Lady Chiefs Win Annual Battle of the Bubble Game; Chiefs Suffer Loss

(Story/Media)

Mar 08, 2018

Athlete of the Week: Jake Donaldson

(Story)

Mar 07, 2018

It's the Most Wonderful Time of the Year: March Madness!

(Story)

Feb 08, 2018

McIntosh Student Athletes Participate In National Signing Day 2018

(Story)

Jan 26, 2018

Athlete of the Week: Emma Whitson

(Story)

Jan 24, 2018

Chiefs and Lady Chiefs Suffer Losses in Annual Battle of the Bubble

(Media)

Jan 16, 2018

Surprise, Surprise: Alabama Finds a Way to Win the National Championship

(Story)

Jan 16, 2018

Students Share Thoughts on the College Football Championship Game

(Story)

Jan 10, 2018

Athlete of the Week: Kennedi Miller

(Story)

Dec 11, 2017

Varsity Basketball Teams Host Starr's Mill in Battle of the Bubble

(Story)

Nov 27, 2017

Athlete of the Week: Anna Muh

(Story)

Oct 24, 2017

Cam Newton's Remarks Sexist and Offensive

(Story)

Oct 17, 2017

Athlete Of The Week : Senior Bradley Ector

(Story)

Oct 04, 2017

Chiefs 'Rock the Raiders' and Win Homecoming Game 27-8

(Story)

Sep 28, 2017

Athlete Of The Week: Junior Zach Jaeger

(Story)

Sep 27, 2017

Character Day

(Story/Media)

Sep 27, 2017

Rock The Raiders

(Story/Media)

Sep 25, 2017
Sep 20, 2017

Hurricane Irma's Impact On Fayette County

(Story/Media)

Sep 15, 2017

Athlete of the Week: Freshman Rebecca Muh

(Story)

Aug 28, 2017

College Football Returns

(Story)

May 12, 2017

Lady Chiefs soccer team advances in state playoffs

(Media)

May 12, 2017

Lady Chiefs compete in first round of state playoffs

(Media)

Apr 19, 2017

Soccer teams compete in battle for the troops

(Media)

Mar 24, 2017

Varsity girls soccer compete against Whitewater Wildcats

(Media)

Mar 09, 2017

Girls varsity soccer competes against Fayette County

(Media)

Feb 14, 2017

Varsity girls' soccer team breaks in new turf with a win

(Media)

Feb 07, 2017

Varsity girls soccer team competes in first scrimmage game

(Media)

Oct 17, 2016

Football team hosts Fayette County for Homecoming game

(Media)

May 20, 2016

Girls varsity soccer team wins state championship

(Story)

May 13, 2016

Girls varsity soccer team moves on to the state finals

(Story)

May 10, 2016

Sports come to close as school year winds down

(Story)

May 09, 2016

Girls varsity soccer advances to state semifinals

(Story)

May 05, 2016

Girls varsity soccer goes 2-1 for week of April 18

(Story)

Apr 11, 2016

JVG soccer travels to Starr's Mill for last away game of season

(Story/Media)

Apr 01, 2016

JV teams travel to Whitewater

(Story/Media)

Mar 23, 2016

JVG soccer team takes on St. Pius

(Story/Media)

Mar 21, 2016

JV boys soccer takes on Heritage

(Story/Media)

Mar 07, 2016

JV soccer teams take on East Coweta and Whitewater

(Story)

Feb 29, 2016

Girls' varsity soccer team receives #1 team in the state

(Story)

Feb 19, 2016

Varsity soccer teams take on Walton at home

(Story)

Feb 18, 2016

JV soccer teams finish their first week of games

(Story)

Jan 25, 2016

Girls receive spots on varsity soccer team

(Story)

Jan 20, 2016

Basketball teams finish 7-0 between Fri., Jan. 15 and Sat., Jan. 16

(Story)

Jan 19, 2016

Basketball finishes 3-1 on Friday, Jan. 8

(Story)

Dec 15, 2015

Freshmen girls' soccer players anticipate season

(Story)

Dec 11, 2015

Final exams start Dec.16

(Story/Media)

Nov 30, 2015

Wolverines defeat Penn State Lions 28-16

(Story/Media)

Nov 30, 2015

Boys basketball improves to 2-1 on the season

(Story)

Nov 16, 2015

Basketball teams start season strong

(Story)

Nov 11, 2015

Freshmen fill in spots on both girls' varsity and JV basketball teams

(Story)

Sep 29, 2015

Freshmen expectations reached after first high school dance

(Story)

Sep 23, 2015

Football season has arrived

(Story/Media)

Sep 17, 2015

Freshman joins dance team

(Story)

Sep 17, 2015

Freshmen give input on first year running cross country

(Story)

Aug 28, 2015

Freshman Zach Seymour earns spot on varsity football team

(Story)