Class Officers For The Class Of 2019 Decorate The Senior Swamp
Hang on for a minute...we're trying to find some more stories you might like.
Decorating the hallway of lockers between the English hall and the History hall upstairs before the first day of school has been a tradition through many generations of McIntosh Chiefs. The hallway goes from looking like every other hallway in the school to being decorated as the "Senior Swamp".
Each year, the incoming freshmen are told to try avoiding the Senior Swamp because that is the main location in the school where seniors' lockers are located. This area of the school is said to be a prime spot for seniors to sticker the freshmen on the first day of school, which is why freshmen try to avoid that hallway.
Freshman Laila Curtin said, "I thought it would be fun to go through the senior swamp to see all the seniors and the fun atmosphere of the swamp. However, a lot of my friends tried to avoid it because they were scared of the seniors and the idea of getting stickered made them nervous."
"The senior swamp was a surprise to me," freshman Matthew Hochberg said. "When I saw it, I tried to avoid it."
This year, upcoming seniors Kate Cullen, Mikaela Rohn, Charlotte Moore, Shelby Fuentes, Jack Bukowski, Blase DeGolian, Lucy Stone, Chloe Minor, Claire Traylor, and Jack Bragg all contributed to helping decorate the Senior Swamp.
Senior Jack Bragg said, "I volunteered partly because I am a member of the student government, but also because I really enjoy how the class is able to put their own spin on the swamp and is able to decorate it in their own way. It just kind of continues that tradition of bringing in the new senior class, showing the freshman who's in charge and it's just a really fun time altogether."
Senior Chloe Minor said, "It was really exciting because it finally set in that we're seniors and it was a lot of fun to decorate with some of the best people I've met in my 4 years at McIntosh."

About the Writer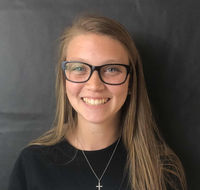 Kamryn Torr, Editor In Chief
Senior Kamryn Torr has been a part of the Trail staff for 4 years. After being a staff writer her freshman year and sports editor her sophomore year, this will be Kamryn's second year as Editor in Chief for the Trail. Aside from her interest in journalism, Kamryn loves sports. Her passion for sports includes soccer and football. She began playing soccer when she was three years old, but the week before her junior year started, she suffered her third concussion in less than two years and will no longer be playing soccer. Kamryn loves college football, especially Penn State. She is a diehard Penn State fan because both of her parents attended college there. She combines her journalism capabilities and her love for sports into sports writing; Kamryn is often live Tweeting MHS sporting events.