Athlete of the Week: Zach Jaeger
Hang on for a minute...we're trying to find some more stories you might like.
More stories from Kamryn Torr
¨When I got to running, it felt great being able to have tangible results that I could challenge myself upon and set myself apart from other runners.¨
Zach Jaeger, senior runner on the Chiefs cross country team, was recognized with Athlete of the Week for the week of September 24. This season is Jaeger´s fourth year running cross country for the Chiefs. He began running cross country his freshman year.
Prior to the season starting this summer, Jaeger knew that as a team they could only be as good as they trained for during their summer workouts. By the end of the season, Jaeger hopes to win an individual state championship as well as two more team titles.
With this year's team, Jaeger enjoys the new group of people they have to train with. Each year, the team brings in new runners with their own character that contribute to how the team shapes up.
The team's goal for the season is to win state for both the girls and boys, as well as hope that the girls can make it to the Nike Cross Nationals in Cary, North Carolina towards the beginning of December.
Nick Willis, a runner from New Zealand, is Jaeger´s role model.
¨He's a strong Christian from New Zealand and one of the best racers in the business,¨ Jaeger said. ¨He's somewhere in his 40s now and still is beating up on young guys.¨
With this being Jaeger´s final season running for the Chiefs, he is going to miss being on a team with people from different backgrounds.
¨In college, most everyone is good and the competition is at a much higher level. Now, I get to meet people that don't have to define themselves as runners,¨ Jaeger said.
Jaeger´s pregame ritual involves staying calm, warming up, stretching, putting his spikes on and getting strides in before the race begins.
Throughout Jaeger´s four years of running for the Chiefs, his best memories have been made on the bus rides back from meets, specifically last year.
¨Especially coming home from winning boys and girls titles with a police escort, sorry Shane and Vincent,¨ Jaeger said, ¨We accidentally left them at Buffalo Wild Wings on the escort back to the school.¨
Jaeger enjoys the simplicity behind running.
¨Coming from sports that are particularly subjective, I was tired of being judged by coaches based on what they thought was my best ability,¨ Jaeger said, ¨When I got to running, it felt great being able to have tangible results that I could challenge myself upon and set myself apart from other runners.¨

About the Writer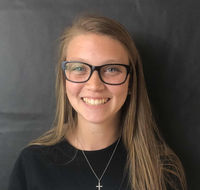 Kamryn Torr, Editor In Chief
Senior Kamryn Torr has been a part of the Trail staff for 4 years. After being a staff writer her freshman year and sports editor her sophomore year, this will be Kamryn's second year as Editor in Chief for the Trail. Aside from her interest in journalism, Kamryn loves sports. Her passion for sports includes soccer and football. She began playing soccer when she was three years old, but the week before her junior year started, she suffered her third concussion in less than two years and will no longer be playing soccer. Kamryn loves college football, especially Penn State. She is a diehard Penn State fan because both of her parents attended college there. She combines her journalism capabilities and her love for sports into sports writing; Kamryn is often live Tweeting MHS sporting events.