It's the Most Wonderful Time of the Year: March Madness!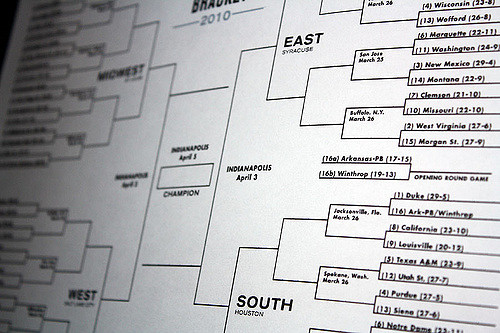 It is officially March and everyone knows what that means: March Madness is right around the corner.
No matter what year it is or what teams qualify to get into the tournament, the teams that play never disappoint. Last year, March Madness resulted in a "Cinderella Story" run for South Carolina University and a heartbreak upset loss for Duke University in the second round of the tournament. Last April, the tournament wrapped up in Phoenix, Ariz., where the North Carolina Tar Heels beat the Gonzaga Bulldogs for the National Championship title.
This kind of action keeps even people who don't usually watch basketball paying attention to the tournament because it is so exciting and filled with upsets and "Cinderella Story" type situations. No one ever really knows who will come out and stun the committee and the viewers. Even those who don't get excited or watch the tournament itself enjoy making a bracket and competing with friends and family. Some may even make bets about who will win the tournament or who will make the biggest upset in the tournament. And let's be honest–upsets are best part of the tournament.
Several teams that are on the bubble of qualifying for the tournament started to stand out towards the end of the regular season, right as conference tournaments began. The Miami Hurricanes traveled to North Carolina to take on the Tar Heels in late February and defeated North Carolina (#9). In addition to defeating the Tar Heels, Miami also had some significant wins against Minnesota (#12) and Florida State (#24).
Virginia Tech is another team that made a stand for themselves at the end of the regular season. The Hokies defeated both Duke (#5) and Clemson (#15) towards the end of February just as the regular season was coming to a close. They had also defeated North Carolina (#10) and Virginia (#2) during their regular season.
The Penn State Nittany Lions also made a decent run throughout the season to try making it into the discussion about the tournament. The Nittany Lions defeated the Ohio State Buckeyes three times throughout the season, twice during the regular season and once in the quarterfinals of the Big Ten Tournament.
March Madness is one of the best times of year because it brings the basketball community together to enjoy a very exciting tournament consisting of upsets and buzzer beater shots. Each year, there is always that one team that makes a run in the tournament and stuns everyone. That team is the best team because it messes up everyone's bracket and makes for an exciting rest of the tournament.