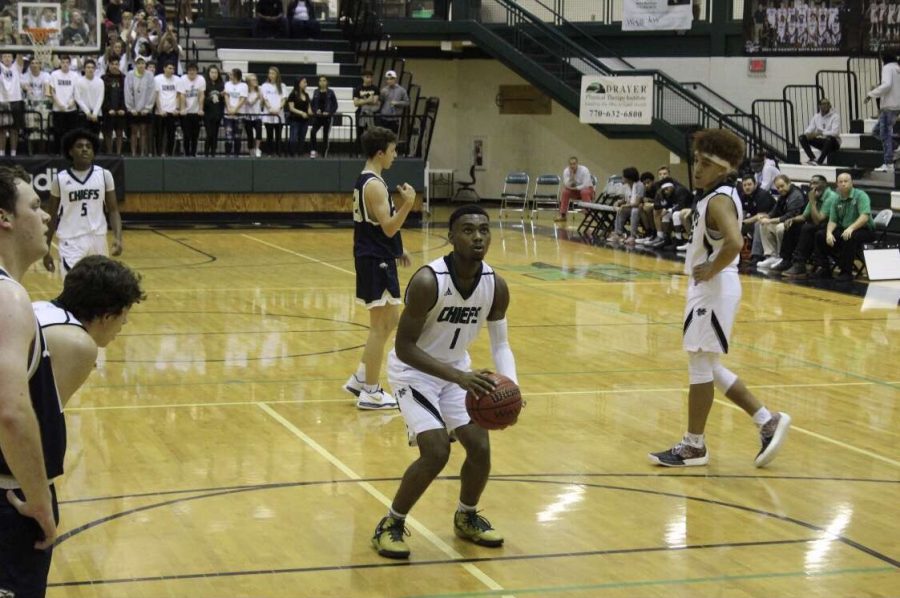 Athlete of the Week: Bruce Carpenter
Bruce Carpenter, senior on the Chiefs varsity basketball team, was recognized with Athlete of the Week for the week of November 5. This season is Carpenter's third year playing varsity basketball for the Chiefs. "I was very excited because I have put in a lot of work on the court and in the classroom to achieve this award," said Carpenter.
Carpenter began playing basketball in third grade. He estimates that he spends up to 20 hours a week playing basketball. Basketball has developed more into a lifestyle to Carpenter in how it has impacted his life. "It has shown me the value of working as a team," he said. "I have also traveled to a lot of places that I would not have gone to if I was not playing basketball. It has also taught me to be a leader."
Carpenter enjoys the strengths that each player provides and the overall structure of the team this year.
"I like that we have good shooters on the team and good guard play and I like that we play up-tempo," Carpenter said.
With this being his last season playing for the Chiefs, Carpenter hopes to improve on being a leader to the rest of the team, as well as working on his jump shot and ball handles. He is most looking forward to being region champions and making a good run in the state tournament at the end of the season.
Throughout Carpenter's nine years of playing basketball, the most memorable thing that happened to him was last year during the MLK Classic against Westlake High School where he received the "Most Valuable Player" award.
McIntosh basketball has become a significant part of Carpenter's life, not only the game part of it, but the overall experience. He's grown strong friendships with his teammates throughout the past several seasons which is one of the main things he is going to miss most about playing for the Chiefs. Along with his teammates, Carpenter is also going to miss the student section at the games.
Carpenter and the rest of the Chiefs started their season on Thursday, November 8 when they hosted Landmark Christian School for the annual "MacMadness" preseason game. Although the Chiefs fell to Landmark 63-58, the first game of the regular season will be on Tuesday, November 13 at home against the Indians of East Coweta High School.