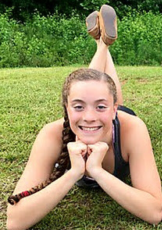 Athlete of the Week: Meredith Ashburn
Meredith Ashburn, a junior swimmer, was recognized with Athlete of the Week for the week of October 29. This season is Ashburn's second year swimming for the Chiefs. "I was honored to be nominated by my coach for Athlete of the Week," Ashburn said.
Throughout her twelve years of swimming, the most memorable thing that has happened to Ashburn has been meeting some of her best friends she'll ever have.
Ashburn estimates that she spends 17-18 hours a week swimming between the high school team and her club team. She believes that she's improved on working harder at practice as well as being a more positive person.
Since she spends so much time swimming, Ashburn has had to learn how to manage her time between swim, school, and friends.
"Swim impacts my daily schedule and how much free time I have to do school work or hang out with my friends," Ashburn said. "It helps a lot with time management because with swim there is no time to procrastinate."
This year's team is being led by senior captains Juliana Brooks and Nicole LaVigna. Their next swim meet is Saturday, November 10 at Steve Lundquist Aquatic Center in Jonesboro, Georgia.