McIntosh Student Athletes Participate In National Signing Day 2018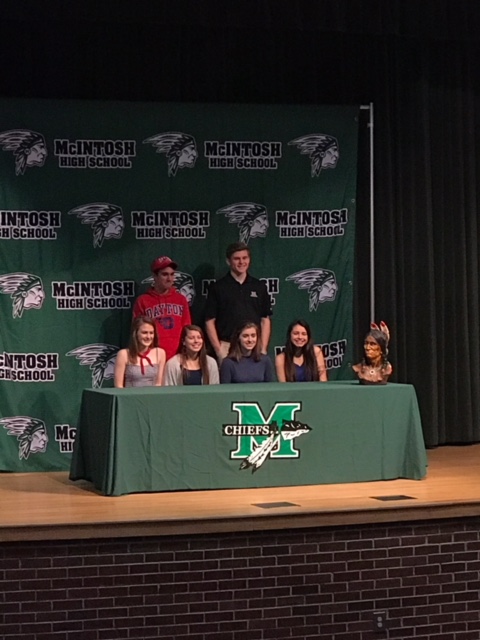 National Signing Day was on Wednesday, February 7. Six McIntosh student athletes and their friends and family joined together in the auditorium to officially sign to continue their athletic careers in college. One of the six student athletes that signed was a lacrosse player, while the other five were soccer players.
Emily Lopez, varsity soccer player for the Lady Chiefs, signed with Shorter University in Rome, Georgia.
Lopez said, "I am very excited to continue my soccer career into college. The recruiting process was very long, so I'm glad that I got it over with!"
Kimmy Edgeworth, varsity soccer player for the Lady Chiefs, signed with Columbus State University in Columbus, Georgia.
Edgeworth said, "Signing was a great experience and a complete honor. I am more than excited to be continuing my soccer career at Columbus State University, although I would not be where I am at today without my family, coaches, and teammates."
Jake Donaldson, varsity soccer player for the Chiefs, signed with the University of Dayton in Dayton, Ohio.
Donaldson said, "It's a surreal feeling. My dream is coming true. I'm so grateful for my family as well as all my teammates, friends, and coaches that have gotten me to where I am today. I'm determined to represent McIntosh the best I can. I'm excited for what the future holds and again, I'm so thankful for everyone involved."
Lauryn Phillips, varsity soccer player for the Lady Chiefs, signed with Savannah College of Art and Design in Savannah, Georgia.
Phillips said, "This signing was really special for me, but what made it so great was having Jake Owen there to cheer me on."
Kayla Wilcox, varsity soccer player for the Lady Chiefs, signed with Westminster College in New Wilmington, Pennsylvania.
Garrett LeClaire, varsity lacrosse player for the Chiefs, signed with Mercer University in Macon, Georgia.
LeClaire said, "I am just happy to sign and be able to continue my career at a nice college and am excited to play at the next level."
About the Contributor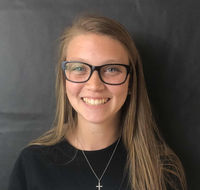 Kamryn Torr, Editor In Chief
Senior Kamryn Torr has been a part of the Trail staff for 4 years. After being a staff writer her freshman year and sports editor her sophomore year, this...