"Instant Family" Movie Review
Hang on for a minute...we're trying to find some more stories you might like.
One of the newest movies this winter season is the movie, Instant Family. The movie includes cast member's Mark Wahlberg, Rose Byrne, Isabela Moner, Octavia Spencer, Tig Notaro, and many more. The movie not only has an emotional aspect to it, but there are also many moments throughout the movie that you can't help but laugh. Viewers go from laughing one moment to being in tears the next.
Mark Wahlberg and Rose Byrne star as Pete and Ellie Wagner, a married couple who work together to renovate and "flip" houses. The fascinating aspect of their jobs is that their job is a metaphor for something that is about to happen in their life.
Pete and Ellie both have been in denial about their hopes to someday have kids, but as the topic of adoption comes up, they soon find themselves in an eight-week training program for potential foster parents. At this training program, they meet several well rounded couples that are looking to complete their families with adoption: the Christian couple, the gay couple, the couple struggling to conceive and the single mom who aspires to find an athletic African-American child whom she can turn into a Division I athlete.
As the parents meet a foster teenager, Lizzy, played by Isabela Moner, they think of taking her in. They soon find out that the teenager is the eldest of three with siblings Juan, played by Gustavo Quiroz, and Lita, played by Julianna Gamiz. Breaking up siblings is one of the hardest things to do when fostering children, so Pete and Ellie went from no kids, to having an instant family. Pete and Ellie go through many obstacles during their time of being foster parents.
Pete and Ellie face the the ultimate scare for any foster parent: the birth mother coming back into the kids lives. After spending some time behind bars, the kids' birth mom tries to reconnect with her kids, which leads to Pete and Ellie having less time to connect with the kids. As time goes by, the more time the kids spend with their birth mom, the less behaved they tend to be for Pete and Ellie. Will Juan, Lita, and Lizzy go back to living with their birth mother or will Pete and Ellie officially adopt the kids and make them their own?
Looking to see what happens with the kids? The closest movie theater to see what happens is the Sharpsburg-Peachtree City NCG Cinema. For movie times, go to https://ncgmovies.com/sharpsburg-peachtree-city/.
Youtube

About the Writer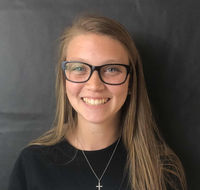 Kamryn Torr, Editor In Chief
Senior Kamryn Torr has been a part of the Trail staff for 4 years. After being a staff writer her freshman year and sports editor her sophomore year, this...