Athlete of the Week: Kaitlyn Patterson
Kamryn Torr, Editor In Chief
September 18, 2018|156 Views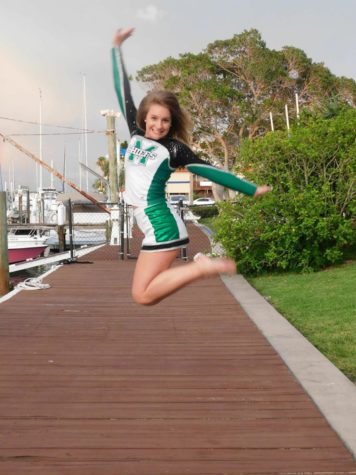 Senior Kaitlyn Patterson was awarded Athlete of the Week for the week of September 17. "When I found out I was Athlete of the Week," Patterson said, "I was surprised and excited!¨
Patterson has cheered since the summer following her eighth-grade year. This is her fourth year being a competitive varsity cheerleader for the Chiefs. Each week, Patterson estimates that she spends at least eight to ten hours each week training.
Becoming a cheerleader takes up a lot of time in Patterson's everyday routine and has impacted her life. ¨I'm basically always cheering," she said. "It makes me more responsible and it helps me manage my free time more wisely.¨
Patterson's most memorable cheer moment happened her sophomore year when they won the state championship. "It was such a good feeling because we worked so hard to be called as the first place team and we proved ourselves in the end," Patterson said, "No one that season believed in us and no one thought we could win, but we proved them all wrong. It was honestly the best feeling ever."
When it comes to this year's team, Patterson enjoys how close the team has gotten within the past several months. She enjoys the fact that the team as a whole is "one big family".
Something that Patterson has improved on throughout her years of being a cheerleader is staying positive when something doesn't go perfectly at practice. "When you have a bad attitude on a bad day, it doesn't help anything and practice gets worse," Patterson said, "You have to keep a positive attitude so practice can get better not worse." She uses this positivity in her real life as well in order to look at the brighter side of things rather than the negatives.
Patterson and the rest of the team will travel to Whitewater High School on Saturday, September 22 for their first competition of the season.