Standing in the Hall of Fame
Former alumni, athletes inducted into the tenth annual MHS Hall of Fame
Five former Chiefs were inducted into the McIntosh Hall of Fame on Friday, Sep. 16, 2022, at the McIntosh home football game against Landmark. Those being inducted can come from former faculty and athletes or from being a distinguished alumni, however, this year, five former athletes and one distingushed alumni were inducted.
Patricia Carman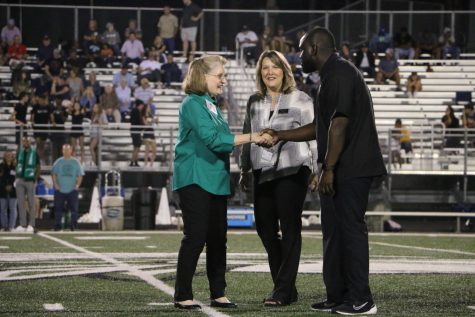 Patricia Carman was inducted into the 2022 Hall of Fame as a Longtime Faculty member (1993-2017). Carman got her Bachelor of Arts, English, and French in 1972, at Georgia Southwestern College. She also got her Master of Education, English 1975, from Georgia State University. She was an English teacher for 45 years, she has a reputation for being passionate about her work and helping her students do the best of their ability. "I feel honored to be among all of these wonderful young people," Carman said.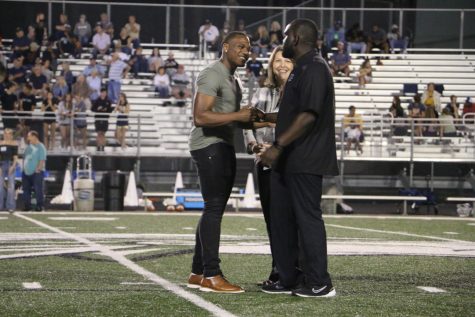 Jordan Lyons
Jordan Lyons was inducted into the McIntosh Hall of Fame for Basketball (MHS class of 2016). Lyons has won many awards for his basketball talents including four-year Varsity Basketball letter winner, fourth-time All-Region, fourth-time All-County, and Region Player of the Year in 2015 and 2016. Lyons graduated with his Bachelor of Arts degree in Communications Studies in 2020. "It just means a lot to me and I'm truly grateful to everybody who has been able to contribute to my journey and it just means a lot to be able to join this great group of people and be part of the McIntosh Hall of Fame," Lyons said.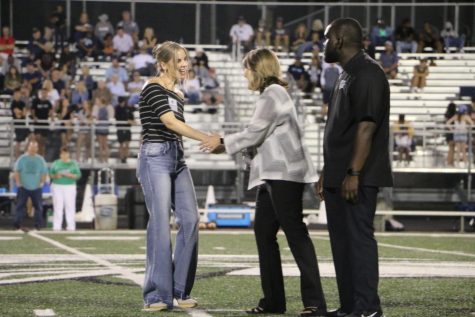 Morgan Kidd Milani
Morgan Kidd Milani was inducted into the McIntosh Hall of Fame for Softball (MHS Class of 2008). Milani was a Varsity Softball four-year starter, Varsity Team MVP in 2004, Region Top Newcomer in 2004, and Varsity Letter throughout the school. She was a Senior VIP, graduated with a 4.0 GPA, with a full four-year Athletic Scholarship from Boston College. Milani earned her Bachelor's degree in Marketing and History. She also earned her Master's degree in Education at Georgia State University. She has taught English in Pyeongtaek, South Korea, and Fujian, China. "Goodness, when I was here playing softball, I feel like that's where everything started. I found a team. I found a home," Milani said.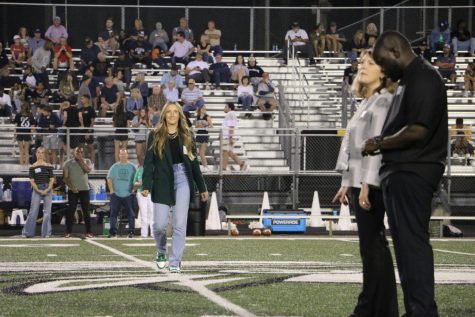 Gabby Seiler Kessler
Gabby Seiler Kessler was inducted into the McIntosh Hall of Fame for Soccer and Basketball (MHS class of 2013). Kessler won the Georgia four A High School States Championship in 2011 and 2012, All County and Region (2010-2013), and was named Region Player of the Year in 2012. She attended UGA and made All-SEC First-Year Honor Roll in 2013 and 2014, Most Valuable Player, SEC Academic Honor Roll, and was nominated for MAC Hermann Trophy in 2014 and 2015. "I'm pretty nostalgic being here because there are so many amazing memories, state championships, wins, and losses. But it's an honor," Kessler said.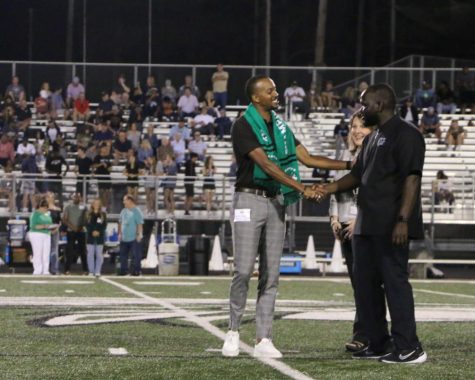 Bilal Duckett
Bilal Duckett was inducted into the McIntosh Hall of Fame for Soccer (MHS class of 2007). Duckett was a three-year Varsity Letter Winner, State AAAA Soccer Champions (2007), Team Captain (2006,2007), and MVP (2007). Duckett attended the University of Notre Dame and graduated with his Bachelor's degree in Business Administration. He was drafted into the Vancouver Whitecaps FC as the first pick of the third round (37 overall) in the 2011 MLS SuperDraft. After Soccer, Duckett ran his business Duck Digital (2013-2019) which made solutions for small businesses across different industries. "There are so many talented people who come to the school and to be honored in this way and with this group of people is just really humbling and a good feeling," Duckett said.
Members of the 1997 McIntosh State Championship Wrestling Team
In 1997, the McIntosh Wrestling Team won the AAAA State Championship, breaking McEachern High School's seven-learn hold on the title.
Wrestlers and their coaches from that year include Trenton Penson (2nd – 160 lbs), Ryan Beckett, Luke Bethea, Keven Federico (4th – 112 lbs), Justin Felmet, Jason Fowler (5th – 189 lbs.), Joe Hutsell, John Hutsell, Michelle Kalenza Albea, Rusty Kalenza (4th – 119 lbs.), Alan Kan (2nd – 125 lbs), David Komaee (6th – 145 lbs), Mohammad Komaee, Markus Laumann (4th – 119 lbs), Chasity Mundy Manning, Mike Munn (4th – 135 lbs), Joshua Rickards, Joe Shamrock, Lucas Smith, Matt Waters, Coach Marty Hutsell and Assistant Coach Josh Stephen.