TAYLOR SWIFT: THE ERAS TOUR
On Oct.13, Taylor Swift released her concert film documenting her Eras Tour, in theaters nationwide. The 2 hour, 49 minute film gives viewers the entire experience of the concert showcasing her 17 years in the music industry. Swift's 44-song setlist is played out showing her "musical eras." The order goes, Lover (2019), Fearless (2008), Evermore (2020), reputation (2017), Speak Now (2010), Red (2012), folklore (2020), 1989 (2014) and Midnights (2022). 
"I was honestly surprised because I kind of wished it was more of a documentary behind the scenes, but it just felt like I was back at the tour again," Bukowski said.
The only difference between going to the movie and the concert is the view. The movie was filmed at different shows in Los Angeles at the SoFi Stadium.
"You [could] see everything very, very close up. It's honestly like you're on stage with her," Bukowski said. 
Swift hasn't toured since her Reputation Tour in 2018 because of COVID-19. Some fans weren't able to see Swift in person since the Eras tour Ticketmaster Fiasco in 2022. The presale on Ticketmaster shut down due to the high traffic during the sale, resulting in the general sale of tickets being canceled. Bots and people buying tickets to resell left fans empty handed.
"The fans are ruining the whole experience. Selling tickets at inflated prices, traveling across countries," Costa said.
Other fans have different opinions  about the Ticketmaster situation.
"I don't think the fans ruined it, I just think it was kind of like a free for all. I think it's just everyone against Ticketmaster, I don't think it was anyone's fault specifically," Bukowski said.
THE "TAYLOR SWIFT EFFECT" ON NFL 
Rumors first started about Swift Kansas City Chiefs player Travis Kelce when Kelce attempted to give Swift his number and a friendship bracelet at the Eras Tour. According to Glamour, Kelce wasn't able to see her before or after the show due to her having to save her voice for her 44 song setlist.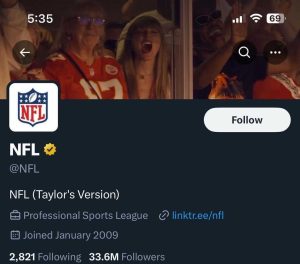 "It's always going around that she's dating someone even if it's not true. But when I read more about it I was pretty happy about it," junior Tiffany Costa said.
In September, Kelce was approached by paparazzi and reporters wanting to know everything about him and Taylor. He said to the cameras he didn't want to talk about his personal life. Travis comments about the situation on him and his brother Jason Kelce's podcast New Heights.
"What's real is that it's my personal life and I want to respect both of our lives," Kelce said on the podcast according to Glamour. 
Swift was spotted cheering for the Kansas City Chiefs game on Oct.1 at the MetLife Stadium. 
On Oct.4, Kelce said on his podcast New Heights, that the NFL might be feeding into the new relationship attention too much. He explains how the NFL is cutting the screens to Swift too much during the game and changing their Instagram bio to "Chiefs are 2-0 as Swifties."
"I could see how it could be annoying for Taylor and Travis though, like their whole relationship is dependent on these fans to buy tickets," Costa said.
On Oct.14, the pair was spotted going out to dinner after appearing in a surprise cameo for Saturday Night Live, Kelce appeared in a skit about NFL obsessing over Taylor Swift and Swift introduced artist Ice Spice. 
"Now that Taylor is dating Travis and the NFL is broadcasting it everywhere, they can make way more money by having Swifties participate in games," Costa said.
— Tiffany Costa
"I hope they last and I honestly think they will because I think he is one of the only guys that actually treats her well and treats her like the celebrity that she is," senior Ana Bukowski said. 
"BIG REPUTATION"
On Oct. 27, Swift released the recording of her album 1989 (Taylor's Version). Swift had been rerecording her first six albums since Scooter Braun took ownership of her master recordings.
"I'm glad that she is taking back her name and she's taking her music back," Bukowski said.
Swift gave fans a sneak peak of the album by releasing the names of five of her "vault tracks" that are tracks  The titles of the songs are "Sl–!", "Say Don't Go," "Now That We Don't Talk", "Suburban Legends" and "Is It Over Now?"
"'Say Don't Go' is my favorite [track]. It's so relatable and it just connected with me right away," Bukowski said.
Swift has already rerecorded her albums Red, Fearless and Speak Now. Swift announced the release of her album Speak Now (Taylor's Version) at the Eras Tour in Nashville on July 7.
"Definitely Speak Now [is my favorite] because the vault tracks are my favorite," Bukowski said. 
Swift recorded under Big Machine records for 13 years, when her contract ended in 2018 she signed with Republic Records. When Braun became the new owner of Big Machine Records in June of 2019 he took ownership of all artists recordings, including Taylor's first six albums. 
Any use of these albums in TV shows, movies, video games etc. would need prior permission and payment to Braun's investment holding company Ithaca Holdings.
"It's not about the money. It's about the fact that she has to own her own music," Bukowski said.