The Saga of Taylor Swift Tickets: "The Great War" between fans and Ticketmaster
On Dec. 20, 2022, Taylor Swift fans filed a lawsuit against Live Nation and Ticketmaster over the shutdown of the Ticketmaster website during the Taylor Swift Eras Tour ticket presale.
Swift's last tour was 2018's "Reputation," named after her 2017 album of the same name. Swift released "Lover" in 2019, both "Evermore" and "Folklore" in 2020, then "Midnights" in 2022.
THE FRUSTRATIONS
Swift's Presale was scheduled for Wednesday Nov.15, at 2 p.m. During the presale, Ticketmaster's website started to crash as more people entered the queue, causing the website to glitch and fans to not be able to purchase their tickets.
"My friend's mom did it for us, but she was on her computer for seven hours in the queue with eyes always on the laptop, and after hours she was finally able to get seats," freshman Elsa Jones said.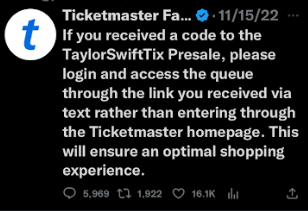 Ticketmaster sent the presale code to 1.5 million verified fans to get into the ticket presale before the public sale was open to all. Anyone was able to get into the queue without a presale code. This led to more fans and bots joining the queue, 14 million people ended up on the site in the queue.
According to CNN Business "Live Nation exec faces lawmakers about Taylor Swift concert tickets fiasco," Ticketmaster was "hit with three times the amount of bot traffic than we have ever experienced," Joe Berchtold, the president and CFO of Ticketmaster's parent company, Live Nation Entertainment said. According to CNBC's article "Senators slam Live Nation over Ticketmaster's dominance, botched Taylor Swift sale," more than 14 million users, including bots, invaded the website, causing lengthy delays and lockouts.
During the sale, Ticketmaster fan support's Twitter account responded by Tweeting: "If you received a code to the TaylorSwiftTix Presale, please login and access the queue through the link you received via text rather than entering through the Ticketmaster homepage."
THE CANCELLATION
However, an estimated two million tickets managed to be sold, but the general sale of tickets, scheduled for Nov. 18, was canceled entirely
Taylor Swift posted on her Instagram story on Nov. 18, commenting on the sale and its struggles.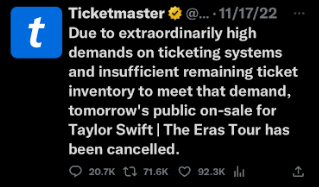 "It's really difficult for me to trust an outside entity with these relationships and loyalties, and it's excruciating for me to just watch mistakes happen with no recourse," Taylor said. Berchtold responded to Swift's Instagram post on Jan. 24.
"As we said after the onsale, and I reiterate today, we apologize to the fans, we apologize to Ms. Swift. We need to do better, and we will do better," Berchtold said.
According to a CNBC  article "Lawmakers tell Live Nation CEO they want answers on the Taylor Swift Ticketmaster fiasco", "Ticketmaster said 3.5 million people had pre-registered as part of the "Verified Fan" program, which was designed to keep tickets in the hands of actual fans and not resellers, resulting in far more requests for tickets than could be fulfilled."
THE HEARING
Berchtold appeared before a Senate Committee on Tuesday, Jan. 24. Two months after the ticket fiasco The Taylor Swift ticket presale was scheduled for Nov. 15 at 2 p.m. Eastern time.
In a letter sent to Michael Rapino, Chief Executive Officer and President of Live Nation Entertainment, on Wednesday, Nov. 16, the House Energy and Commerce Committee requested that he provide details regarding Live Nation's ticketing plans for the "Eras" tour and outline the steps his organization will be taking to guarantee that consumers will have better access to live entertainment in the future.
At the hearing on Tuesday, Jan. 24 Senators quoted Swift's lyrics in their statements. Connecticut Democrat Richard Blumenthal said, "Ticketmaster ought to look in the mirror and say, 'I'm the problem. It's me,'" quoting her 2022 hit "Anti-hero."
WHAT'S NEXT
The committee mentioned that it had previously expressed dissatisfaction with the business practices of the industry and requested a meeting with Rapino to inquire about the manner in which the company handles tickets for major events and tours. It also wants to know how Ticketmaster intends to improve moving forward.
According to an article in Variety, "Will the Taylor Swift-Ticketmaster Senate Hearing Actually Change Anything?," "All told, concertgoers can maintain some measure of hope for a better ticket-buying experience but shouldn't hold their collective breath."
Ticketmaster is still under open investigation and more information will come throughout the next court hearings.