Taylor Swift The Eras Tour, and her new album "Speak Now" (Taylor's Version).
Taylor Swift's "The Eras Tour" has now been touring in the U.S. for two months. So far, Swift has visited Arizona, Nevada, Texas, Florida, Georgia and Tennessee. Along her tour for every show she has had two openers who are shuffled around: Paramore, beabadoobee, Phoebe Bridgers, Gracie Abrams and GALE. More new openers will appear in her upcoming shows. 
Freshman Jillian Cumbie attended the second night of Swift's three-day Atlanta show on April 29.
"My openers were Gracie Abrams and I forgot the other one's name but I love Gracie Abrams,"  Cumbie said. 
TOUR DETAILS
Swift begins the tour with her song "Miss Americana and the Heartbreak Prince" from her 2019 album, Lover. With fans holding giant colorful tarps making an illusion that she is in one. But, then Swift rises from below the stage.
"I think [the show] was good because 'it's been a long time coming' it's been five years since she's gone on tour," freshman Emma Taylor said. 
Swift continues in her Lover era, then she transitions to her 2008 album, Fearless. She played three songs: "You Belong with Me," "Fearless" and "Love Story."
"[My favorite song she performed was] "Gorgeous," because it was a surprise song for our night and it was one of my favorite songs so I was just really happy to get it," freshman Elsa Jones said. 
Swift included two of her COVID-19 albums folklore (2020) and evermore (2020). She included them as eras and had backup dancers, costumes, sets, backgrounds and dances coordinated for performances. 
"Probably, Coney Island [was my favorite song]," Taylor said.
Every show Swift performs two "suprise songs." These are songs Taylor picks and no one knows what they are going to be and songs will not be repeated. Trends have been going around on social media trying to guess her surprise songs for each night. 
"[Suprise songs] make every single night special," Jones said.
Taylor announced on her second show in Tampa FL, she will be repeating surprise songs from her 2022 album Midnights.
"I'm making a little caveat to the rule which is that if it's on Midnights I can do it however many times I want because Midnights is the most accurate picture of my life to date," Swift said at her second show in Tampa, FL. 
Swift then continues through her performance with her well-known albums 1989 (2014), reputation (2017), Speak Now (2010) and Red (2012). 
"1989 [is my favorite album because] every single one of my favorite songs is on 1989," Jones said. 
WHAT'S COMING NEXT?
2019 saw the sale of Swift's catalog's master recordings by her former label, Big Machine, which prompted the singer to re-record her earlier albums. Swift released "Red (Taylor's Version)" and "Fearless (Taylor's Version)" in 2021.
"I do like (Taylor's Version) better because I feel like I'm supporting her more and I like the vault tracks," Taylor said.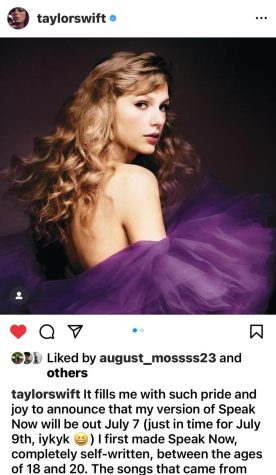 On May 5, Swift announced at one of her Nashville shows that her third re-recording of her albums "Speak Now (Taylor's Version)". The album is expected to come out July 7. And is now available for pre-order in vinyl, cd, cassette and digital album on taylorswift.com.
background_color="#ffffff" border="left" border_color="#000000″ border_size="5px" shadow="off"]I'm so excited [for the album],[/pullquote]
"I love this album because it tells a tale of growing up, flailing, flying and crashing… and living to speak about it. With six extra songs I've sprung loose from the vault I absolutely cannot wait to celebrate Speak Now (Taylor's Version) with you on July 7," Swift wrote on Instagram.