On Thursday Aug.31, Taylor Swift announced on Instagram the Eras Tour film that documents the North American leg of her tour and it will be released to North American theaters on Oct.13. Swift played six shows at the Sofi Stadium in Los Angeles, California. Swift performed her first three shows in Mexico City and plans to tour throughout Europe in 2024.
"The Eras Tour has been the most meaningful, electric experience of my life so far and I'm overjoyed to tell you that it'll be coming to the big screen soon," Swift wrote on Instagram.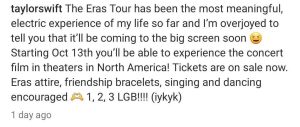 In November Swift's sale for The Eras Tour people voiced their opinion about the outcome. Ticketmaster left fans that waited for hours in the queue empty handed. Later on, the case went to congress and a further investigation went on for Ticketmaster.
Tickets are now on sale at AMC theaters, Regal, Cinemark and Fandango. The film is directed by Sam Wrench who also produced films for Billie Eilish, Lizzo and Jennifer Lopez. The movie will have four showtimes, Thursdays through Sundays.