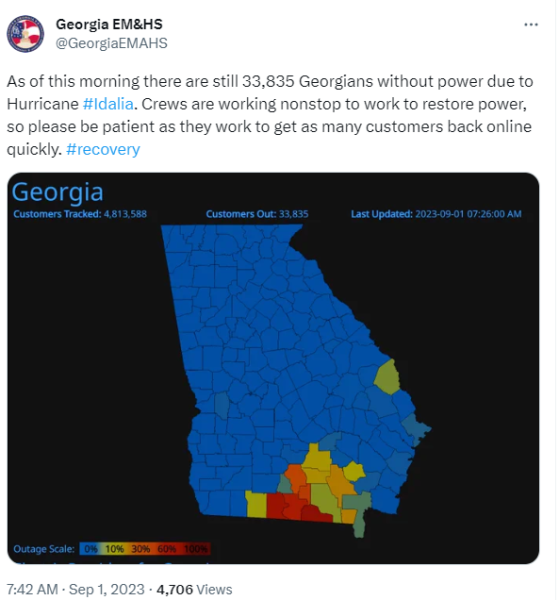 By Friday, Sept. 1, Idalia is gradually weakening as it enters the Atlantic Ocean but it spread destruction through Florida and Georgia over the past week. So far only one death has been confirmed – that of a man in Georgia that was hit by a falling tree.
According to "Tropical Storm Idalia hits North Carolina after leaving trail of devastation in Southeast," Hurricane Idalia has passed over the Carolinas as those states remain under an emergency declaration. As the hurricane went on its path across Florida, south Georgia and up into the Carolinas, it reached winds of up to 60 miles per hour, with forces reaching out about 205 miles. Earlier in the week it made landfall as a Category 3 hurricane on Florida's coast it had winds of 125 miles per hour. While it was in Georgia it contained winds of up to 90 miles per hour.
The storm's destruction has caused hundreds of thousands of southeast residents to be without power, and as of Sept. 1, more than thirty thousand Georgia residents are still without power. Heavy rains have left many cities flooded and winds have left many houses taken apart. Florida's Governor DeSantis and officials from the Federal Emergency Management Agency plan to tour the area. President Joe Biden declared Florida a disaster at the request of DeSantis, sending financial assistance to Floridians.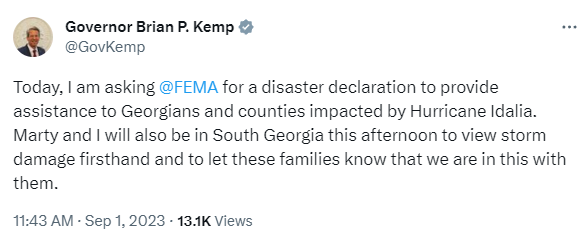 Georgia Emergency Management and Homeland Security Agency, whose mission is "to protect life & property against disasters by directing the state's efforts in prevention, preparedness, mitigation, response & recovery," has posted shelter locations and resources for those residents affected by the storm.
Peachtree City was largely unaffected by the storm and McIntosh athletics continued with scheduled games and practices.