Editor's Note: This story is ongoing and will be updated as needed.
According to CNN, Hurricane Idalia has made landfall as a Category 3 hurricane earlier today as the strongest storm to hit the Big Bend area of Florida in 125 years, and current projections show the storm passing through south Georgia and over Savannah by midday Wednesday. CNN is reporting that more than 230,000 residents are currently without power.
The Savannah Daily News is reporting that "the eye wall was crossing the Georgia-Florida border and nearing Valdosta as of 9:30 a.m. Wind gusts in the area could reach 80+ mph."
On Tuesday, Aug. 29, the Fayette County Public Schools via Parent Square sent a mass email out at 4:40 P.M. The email reads as follows:
"We are actively communicating with Fayette County Emergency Services and the National Weather Service to monitor the weather situation for Wednesday, August 30.
Please be aware that Hurricane Idalia may impact our area tomorrow afternoon with heavy rains and strong winds. This may cause a delay for school buses so please be patient if your school bus is running late.
The safety of our students and staff is a top priority. Thank you for your cooperation and support."
— Fayette County Public Schools
Extracurricular activities have not been canceled at this time. You will be notified if there are cancellations or delays."
The Fayette County Superintendent Dr. Jonathan Patterson responded to the Trail's request for comment.
"It appears that we are going to miss most of the high wind. We will continue to monitor the weather and make changes as needed," Patterson said.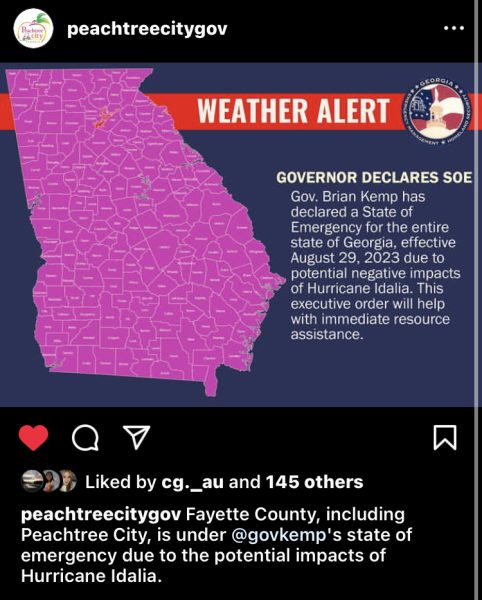 Also on Tuesday Aug 29, the Peachtree City Government's Instagram page posted a graphic containing information about Georgia's Governor Brian Kemp's decision regarding Hurricane Idalia. The caption said, "We are monitoring the storm. We will send out additional alerts as needed. Please remain weather aware."
The caption also directs readers to clink the link in their bio to sign up for notifications to stay prepared for possible weather information.
Kemp declared a State of Emergency for the entire state of Georgia on Aug. 29 in preparation of possible impacts from Hurricane Idalia. The Executive Order will expire at 11:59 P.M. on Friday Sept. 8, 2023. As of 9:10 A.M. on Wednesday Aug. 30, the storm is expected to pass through Georgia on Wednesday with heavy rainfall and destructive winds through most of Southeast Georgia.
According to a press release from the Office of the Governor, Kemp said, "We are taking every precaution ahead of Hurricane Idalia's landfall [today], and I am taking this additional executive action to ensure state assets are ready to respond."
We are well positioned to respond to whatever Idalia may bring."
— Governor Brian Kemp
According to the press release, multiple Georgia counties are under a Hurricane Warning. Two counties are under a Hurricane Watch and additional counties may be added to the Hurricane Watch or Warning.
Tuesday, August 29
The National Oceanic and Atmospheric Administration (NOAA) is projecting that Tropical Storm Idalia will meet the east coast of Florida Wednesday morning before swiping across the state of Florida, and passing over coastal Georgia.
"Idalia will likely make landfall Wednesday along Florida's Big Bend," according to CNN's article on Idalia.
We will never jeopardize the health and safety of our students and coaches."
— Athletic Director Leon Hammond
This could potentially have an effect on school activities but no changes have been made as of Tuesday, Aug 29.
"Typically cancellations come down from the District Athletic Director, Mr. [Oatha] Mann as it relates to overall cancellations. We have a system called the Perry Weather System at all high schools in the county, installed this year. This allows us to track potentially bad weather to make the best decision in real time. This has come in handy with the extremely hot temperatures and lightning we've had lately," McIntosh Athletic Director Leon Hammond said, "We will probably make a decision by Wednesday afternoon as it relates to games on Thursday. If the weather continues to affect us negatively, we would make that call on Thursday for Friday. Rescheduling games can be a challenge, so we want to get them in if possible."
If the athletic department can be of service to our families and communities, do not hesitate to reach out."
— Athletic Director Leon Hammond
Hammond's final comments said, "Since we are moving into hurricane season, I encourage everyone to be safe and exercise caution with mother nature. Although I love sports and watching our students compete, I love seeing their faces in school, safe, on a daily basis."
Editor's Note: This story is ongoing and will be updated as needed.