Collision course: teens and golf cart accidents in Peachtree City
In October 2022, freshman Juju Lockwood was driving her golf cart with her father when, in a split second, looked down at her phone, causing her to crash into a metal pole by Flat Creek Golf Course. She had gotten her learner's permit only two days earlier.
"I broke my nose but you just have to let broken noses heal on their own so there wasn't much of a recovery," Lockwood said.  "I'm kind of afraid of driving the golf cart with him on it again."
HISTORY
Golf carts were initially designed to be driven around golf courses and carry golf bags and clubs. Today, they are used as typical transportation on golf cart paths that are all around Peachtree City. 
Golf carts got their start by the growth of the golf cart industry in the 1970s. In the seventies,  "cart manufacturers found a new niche off the golf course." Those same golf carts were also able to be used for transportation in small closed areas. Peachtree City and The Villages, a retirement center in Florida, is an example of a community that uses golf cart paths for transportation. According to golfcartsforsale.com.
According to jsgolfcarts.com, golf carts originally were made to only go "12 to 14 miles per hour." In recent years, golf carts can reach 25 miles per hour. This is because golf carts are now primarily used for transportation on roads, airports and retirement communities.
"One time I was driving and passed one of these construction thingies that showed your speed limit and it said 27," Ava Flores said. "When we bought the golf cart, the [seller] said it could go up to 30." 
ACCIDENTS
Although being able to drive might give teenage drivers a feeling of freedom and independence, anything can happen in a matter of seconds. 
On March 10, McIntosh sophomore Sydney Sena was driving her golf cart after school when she got into an accident with an oncoming car.
"We got T-boned when crossing the [road] and another car waved us across telling us that it was safe and I went and there was another car coming," Sena said. "Me and my friend… got flung out of the golf cart."
Sophomore Camilla O'Connell was Sena's friend in the passenger seat on the golf cart at the time of the accident.
Sena initially went in the ambulance headed to Children's Healthcare of Atlanta but was redirected to Grady Hospital. O'Connell was not taken in an ambulance but driven to that hospital by her father because she was in better condition. 
"We got [to Grady Hospital] at six and we didn't end up leaving until like one o'clock [in the morning]. I had staples in the back of my head because there was a five-centimeter gash in the back of my head," O'Connell said.
"I had to get [around] 30 stitches on my face,"  Sena said.  
"
"I blacked out and we hit the ground. I wake up [and] I think like 'Wow… did that really just happen? Am I okay?' and like 'Where is my friend? Where is Sydney?'
— Camilla O´Connell
COSTS
According to Allstate, an insurance company, "golf cart insurance policy typically includes some basic coverages: property damage liability coverage, bodily injury liability coverage, collision coverage and comprehensive coverage."
Local insurance agent Tim Monihan is familiar with insurance policies and claims involving golf cart accidents. 
"It doesn't cover how we drive around here in Peachtree City. It's not covering you going through the Chick-fil-A line, it's meant to either drive around on your property, normally somebody with a bunch of acreage, maybe they want to go feed the cows and so they hop on their golf cart on their property, or they literally live on a golf community and they're just driving around on the golf course," Monihan said.
Golf cart accidents can be costly; lots of money can be spent on replacement services, towing and medical bills, depending on the intensity of the accident.
"Fixing the golf cart, no one wants to pay that kind of money. But the biggest exposure when it comes to the golf cart is the liability from somebody getting injured. If somebody gets into an accident and somebody gets injured, then you're talking hundreds of thousands of dollars," Monihan said.
Golf cart insurance only covers bodily injury liability, property damage, collision and comprehensive damages. Golf cart insurance does not cover injuries. 
SAFETY
Golf carts can be safe, but when they are used without responsibility, they can put others' lives in danger. The carts themselves are safe, but when there's a distracted driver that goes around sharp turns or speed bumps at an unsafe speed, it can get dangerous. Golf carts are not built like cars; they don't have any doors or seatbelts. The only thing to rely on to keep drivers and passengers on the cart is the handles on the sides of the seats. Therefore, golf carts lack the internal mechanisms to prevent rollover mishaps.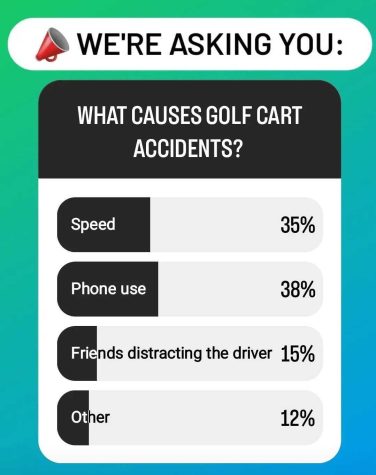 According to Velasquez and Associates, P.A., Without seatbelts, even if the golf cart does not roll over, someone could easily be "ejected from the cart." Beyond the consequence of being thrown from the golf cart, someone could easily be "crushed by the golf cart itself."
This summer, Peachtree City Police Department and Fire Rescue with conduct Golf Cart Classes on June 5 through 8 and again July 6 and 7. There will be three different courses with breaking and reaction exercises also a simulated impaired driving experiment exercise. Driving courses will take place in the McIntosh High School parking lot. Golf carts will be provided for the exercise but students are welcome to bring their own. After signing up parents will receive course material, rules, city ordinances and a online test. The test and class portion should be done at home. Sign-ups can be found on the Peachtree City Police Department and Peachtree City Fire Rescue Facebook page.
CONCLUSIONS 
In the two months since the accident, O'Connell is still feeling the impact from her injuries. 
"[My leg] was super swollen for a really long time. I think like three weeks after the accident the swelling went down. But now it is swelling still like swelling to the size of my hand. So it's a little bit concerning," O'Connell said. 

O'Connell still plays hockey and has been going to the gym since after the accident. But she struggles with her swollen leg. 
"I still play hockey, the whole reason for me going back to the doctor [was] because I played a [hockey] game and I fell on it. I was like limping back to the bench," O'Connell said.
It's been over a month since the accident and injuries from the golf cart accident are affecting her daily life. Traumatic accidents like this can give teenagers a new perspective of the road. 
"I find that I am more cautious when driving and I try not to cross areas where there aren't crosswalks there," O'Connell said. 
View Comments(1)
Donate to McIntosh Trail - The Student News Site of McIntosh High School
Your donation supports the student journalists of McIntosh High School. Your contribution will allow us to purchase photography equipment and cover our annual website hosting costs.
About the Contributor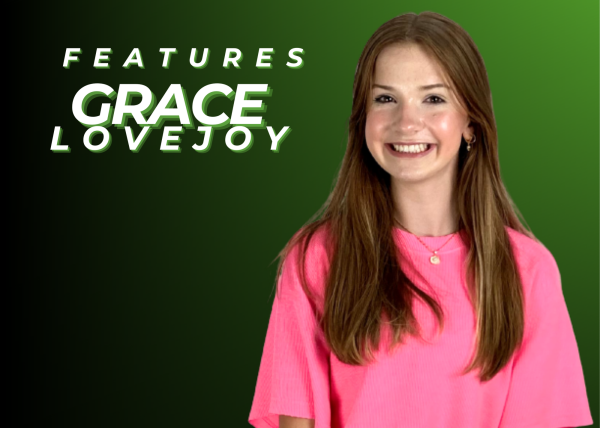 Grace Lovejoy, Features Editor
Grace Lovejoy is serving as the Features Editor for the McIntosh Trail this year. Lovejoy is a sophomore this year and ia McIntosh Ambassador and a Gold...