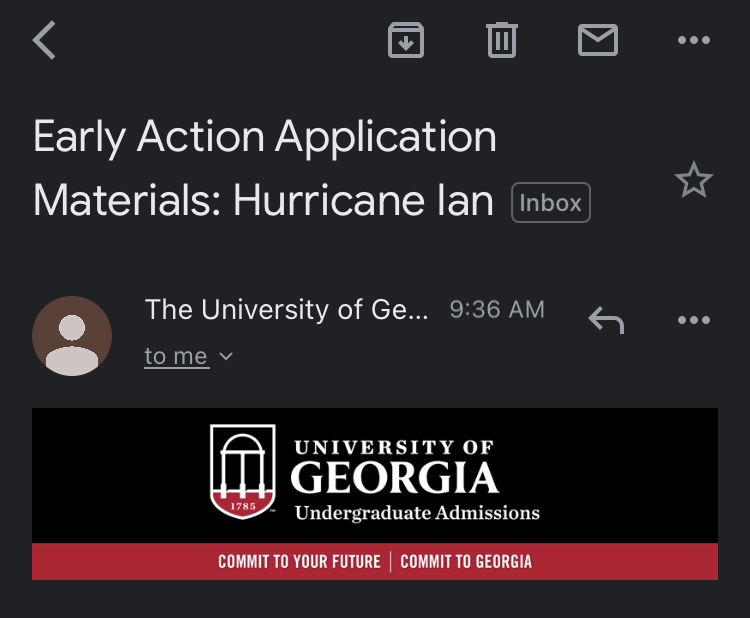 University of Georgia changes SAT policies in advance of Hurricane Ian
According to an email sent Wednesday, Sept. 28, the University of Georgia has outlined their SAT policies for early action admission concerning the SAT testing to be held on Oct. 1.
Dear [student],

We wanted to reach out as Hurricane Ian approaches and let you know that our thoughts are with you and your loved ones.

It has come to our attention that the scheduled October 1st SAT test administration in your area might be cancelled or re-scheduled due to the hurricane. If you planned on applying Early Action, your test scores will still be accepted if you request to send them to UGA by October 15th.

If you are unable to take an exam prior to the deadline and have already applied Early Action, your application will be incomplete when we release Early Action decisions. You may still be considered for Regular Decision as long as a test score is provided by January 1st. Rest assured that equal admission and scholarship consideration is given to Early Action and Regular Decision applicants.

We wish you the very best and hope that you experience minimal impact over the next few days.

Please feel free to reach out if you have any questions and stay safe!
Additional information about UGA's SAT and ACT admissions process can be found here.  
Read the Trail's additional coverage of Hurricane Ian here.
Donate to McIntosh Trail - The Student News Site of McIntosh High School