via Twitter
Hurricane Ian, downgraded to tropical storm, heading toward South Carolina
Storm described as "life threatening"; affecting sports county-wide
This is a developing story. The Trail will update as the situation unfolds.

Editor's Note: Hurricane Ian was downgraded to Tropical Storm Ian after the original publication of this story.  
UPDATE: Thursday, Sept. 29
According to the Orlando Sentinel, Hurricane Ian has been downgraded to a tropical storm. The storm is "dumping record amounts of rain to bring 'catastrophic flooding' across Florida while still packing damaging winds across a 415-mile swath of the state."
According to the National Hurricane Center, Tropical Storm Ian has once again changed directions. It is now expected to travel along the coastline prior to hitting South Carolina at around 2pm Friday, Sept. 29.
"There is a danger of life-threatening storm surge today through Friday along the coasts of northeast Florida, Georgia and South Carolina," according to a statement by the National Hurricane Center.
UPDATE: Tuesday, Sept. 27
Governor Kemp has declared a State of Emergency today ahead of Hurricane Ian, now a Category 3 Hurricane.
The track of Hurricane Ian is expected to reach the west coast of Florida Wednesday into Thursday. Hurricane Ian is described as as "life- threatening" by the as it could lead to a storm surge, hurricane-force winds, flash floods and possible mud slides. National Hurricane Center. 

The hurricane's track is expected to pass through Georgia, but has shifted away from the center of the state and is currently being projected to cross through Orlando and potentially target south Georgia . According to CNN Hurricane Ian is expected to reach Georgia sometime Saturday, Oct. 1.
"Damaging winds will be possible statewide, even well away from the center of the storm, and downed trees and powerlines are possible statewide on Friday and Saturday," Kemp said in a statement. "Widespread rainfall of 2 to 4 inches is also possible statewide, with 4 to 6 inches or more forecast in Southeast Georgia. Flash flooding, power outages, and other dangerous situations are possible, especially in Southeast Georgia."
Hurricane Ian currently has 115 mph of wind and has shifted 25 miles south. Landfall is expected to occur in Florida in 6-12 hours.
McIntosh Athletic Director Leon Hammond said 75 games have been moved across the state of Georgia to avoid any potential weather issues, including the Whitewater HS vs. Fayette County football game, previously scheduled for Friday night. Kickoff for McIntosh's game against Heard County has been moved to 7 p.m. instead of 7:30.
ORIGINAL STORY:
According to the National Hurricane Center, A category four hurricane named Hurricane Ian is heading to Georgia this week after forming south of Cuba earlier this month.
While projections are variable, as of today Hurricane Ian is scheduled to arrive in the Atlanta area Thursday, Sept. 29 at 8:00 am. Hurricane Ian has been predicted to first hit south Florida and travel through both Alabama and Georgia.
Georgia Governor Brian Kemp has recognized Hurricane Ian as a major threat, and according to WSB-TV Atlanta he has "ordered an emergency activation of State operations" to ensure the safety of Georgia citizens.
"I urge my fellow Georgians to monitor this storm as it evolves and calmly take the necessary precautions to keep their families and neighbors safe, if the storm continues to intensify. Throughout the week, I will work closely with GEMA/HS, the weather service, public safety organizations, and others to ensure we leave nothing to chance," Governor Kemp said in a statement.  Florida has already identified evacuation zones due to the size of Hurricane Ian.
More information can be found at Georgia's Emergency Management Agency.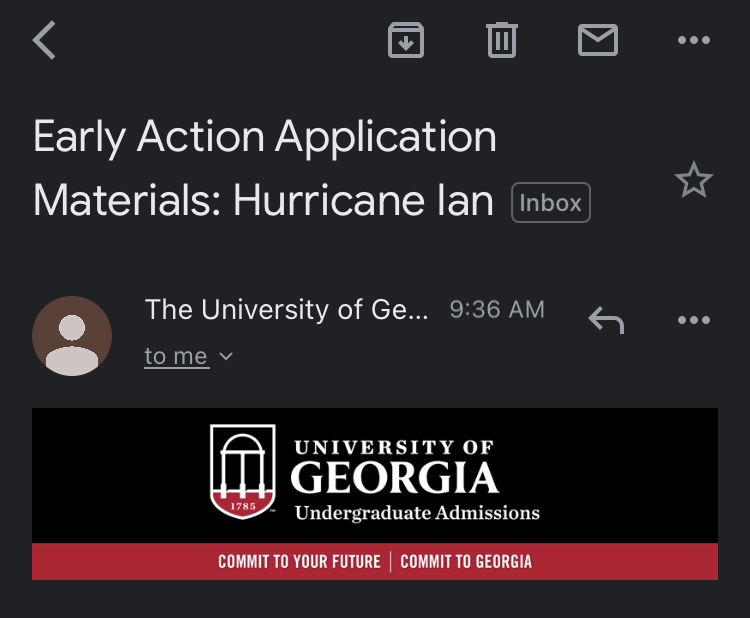 Donate to McIntosh Trail - The Student News Site of McIntosh High School