Fire at PTC Walmart closes store; arrest made
UPDATE: The Peachtree City Police Department has released a statement on the arrest of a juvenile in connection with the Walmart fire on Aug. 24, 2022. This person has been charged with Arson in the first degree. The Trail is publishing a portion of that statement.
"An intensive investigation ensued involving members of the Peachtree City Police Department's Investigation Division, Peachtree City Fire / Rescue personnel, and the Wal-Mart asset protection team. Numerous citizens also reported what they observed during the time of the fire.
"Initial eyewitness information was eventually corroborated by video evidence recovered from the damaged servers inside Wal-Mart, leading to a suspect description. Through further investigative efforts by detectives, a suspect was identified.
"On the evening of August 30th, a search warrant was executed on the suspect's residence.
"Peachtree City has no information on an expected reopening date for Wal-Mart at this time." — Peachtree City Police Department
EARLIER STORY: Aug. 26, 2022: The latest from Peachtree City Police Department and Fire Rescue has been included in this story.
Editor's Note: A correction about which fire departments responded has been updated.
The Walmart off of Highway 54 in Peachtree City, caught fire last night, Wednesday Aug. 24, not long after 7 p.m.
According to WSB-TV in Atlanta, 911 got the call at about 7:21p.m. Though arson investigators reported to the scene, the cause of the fire is still under examination. Both the Fayette County and Peachtree City police and fire departments were called to help, but also both the Fayette fire and Coweta fire departments reported to the scene.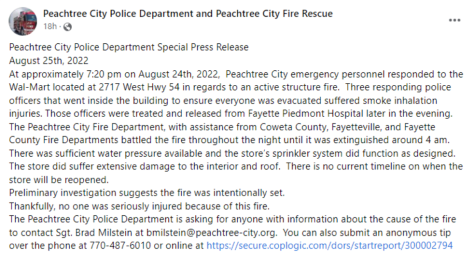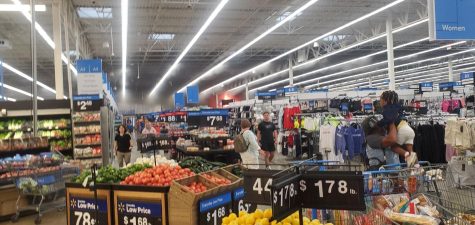 Peachtree City Police Department and Peachtree City Fire Rescue posted to their Facebook page on Aug. 25 with updated information on the event, suggesting the fire was intentionally set, clarifying that the sprinkler system within the Walmart was working effectively and that the officers hospitalized for smoke inhalation were treated and released. Still unknown is when the Walmart might reopen.
Public safety officials are asking the public's help with the investigation. They are asking anyone who may have seen something at the Walmart to reach out to Peachtree City Police Sgt. Brad Milstein at [email protected]
The Trail will update this story as it develops.
Read our continuing coverage of the Walmart fire here.
Donate to McIntosh Trail - The Student News Site of McIntosh High School
Your donation supports the student journalists of McIntosh High School. Your contribution will allow us to purchase photography equipment and cover our annual website hosting costs.