What seemed like a normal Sunday changed when I got to give a Komodo dragon a treat. This fearsome lizard has many dangerous traits like countless bacteria in its saliva, its venom, the powerful tail that can break a human femur bone and its sharp teeth that can rip apart its prey and yet I walked up to the barrier that housed the animal – named Rinca – and gave him a biscuit just like someone who was rewarding their pet dog. 
That was just one example of the many interesting experiences I have had as a Zoo Atlanta Volunteen over the past two years.
Zoo Atlanta has been open since 1889 which includes a long history of many things such as volunteer programs. This is a way that teenagers that have any interest in animals can learn more about them and how zoos and aquariums help them. Both the Zoo Atlanta Volunteen program and Georgia Aquarium program are very competitive programs for those who are interested. The Volunteen program is a year long commitment that I have been a part of since summer 2022. I have really enjoyed my experience and want to share the process it took to join the program and some of the activities that I do as a Volunteen.
I found out about the program through some research as I learned that I wanted to major in something animal related upon going to college. I started the search to find a way to immerse myself into the animal realm. I found the Zoo Atlanta website and learned about the Volunteen program and later that week I did the first step of the application process.
The first step of the application process to become a Volunteen is to fill out an online form. Many applications get completed and then the education volunteer department reviews these applications. They narrow the applications down and then they send out an interview date option to people for the next round. Then, there is a professional interview between candidates and management for the volunteer section or the education department.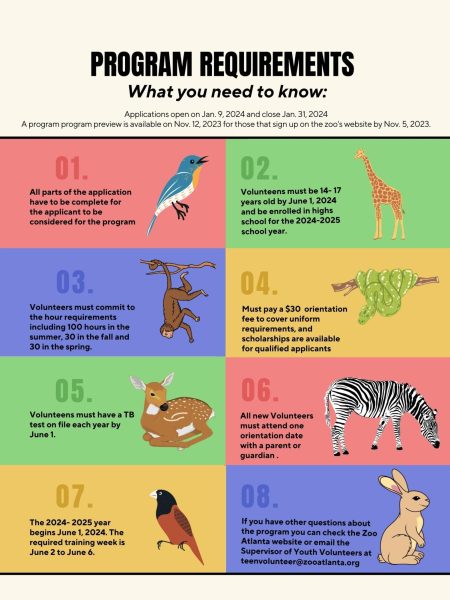 This is not too bad as it is a comfortable environment with like-minded people around you. If you ask any current or past Volunteen, the main thing that they are looking for, if you do not get past this round, is if you care enough to come back and try again.
If you get through all of these requirements, then there is an initial training week for new and returning Volunteens. This is a week-long introduction to the program where you learn all about the things you can do and your expectations in the program. The most important thing is the hour requirements: 100 hours in the summer, 30 in the fall and 30 in the spring.
As a first year Volunteen, you learn a lot of things about the importance of zoos and aquariums. This includes learning about the Association of Zoos and Aquariums (AZA) and the Species Survival Plan (SSP). These things can help you when doing habitat interpretation, which is one of the main things that teen volunteers do. It basically includes giving presentations to guests regarding the animals throughout the zoo. This could be anything from the animal's name, birthday and age, to where the animal is found, its conservation status or deeper interpretive information. 
Probably the second most popular thing to do is helping out in the Contact Yard, which is basically the petting zoo. Here teens help keep the area clean, and they also engage in interpretation for the goats and sheep found there. Along with this, Volunteens can help with special events like Boo at the Zoo, Cookies with Santa, Play the Animal Way and many more. First year volunteers can also work in giraffe feeding, flamingo plaza greeter and pop-up activities. 
While as a second year, you can run a conservation cart or become a husbandry aide. Husbandry Aide is more selective and requires another interview process, because it's a bigger responsibility to be working with keepers. 
I have had the opportunity this fall to work as a Husbandry Aide in the Outback Station also known as the petting zoo. Things I have done thus far include mucking out stalls, throwing hay, generally cleaning up the barn and many other things that the keepers would do on any average day. That being said, volunteering in this area definitely requires one to not be afraid of getting dirty. So far, I have really enjoyed this area and I am so excited to continue volunteering with the keepers there. 
Some of the main requirements to be a Husbandry Aide include 25 hours of service in the contact yard, the second interview I mentioned and being a second year Volunteen. 
Overall, I have appreciated my experiences at Zoo Atlanta, and I am ecstatic that I still have the rest of this year to continue there. I would not trade anything for this opportunity that I have been given. I have really learned a lot regarding animals and my future career choice, but also personal goals I had going into the program have been met.