OPINION: Estep's December Music Critiques
Hang on for a minute...we're trying to find some more stories you might like.
'Tis the season to celebrate new music! As the year comes to a close, all the 2018 albums that have been released can be reflected upon. Over the course of the year, new music has been put forth by Kali Uchis, J. Cole, and. However, the year isn't quite over yet. There are still plenty of albums being released this month that have yet to be heard. Some of which include SKINS from the late XXXTentacion, Evil Genius from Gucci Mane and Sick Boy from The Chainsmokers.
On his recently released album SKINS, the late XXXTentacion bids a sad and powerful goodbye. This album, released Dec. 7, about 6 months after his passing, clocks in at just 20 minutes. These 10 tracks, despite their short duration, are heartfelt. SKINS closely resembles his last album 17 with its melancholy beats. The main highlight of this album was the on the track "One Minute" that featured verses from both Kanye West and Travis Scott. Through their verses, the impact XXTentacion's death had on the rap community is shown. While the track was not particularly exciting, the verses stood out.
Gucci Mane's Evil Genius, also released on Dec. 7 is just short of an hour. These 18 tracks make up 51 minutes of clever verses and fresh beats. Throughout his thirteenth studio album, Gucci Mane features guest appearances from 21 Savage, Kodak Black, and other popular artists. Within the first 3 minutes of his album on track "Off the Boat," Gucci Mane references several of his other A-list counterparts such as J. Cole, El Chapo, and even the Pope.
The Chainsmoker's newly released album Sick Boy was released on Dec. 14, following their widely popular EP Bouquet in 2015. While these 10 tracks that only clock in at half an hour have not received the praise that their previous works have, the album is still young. In this album, they've branched out by using grittier instruments. Their old hits have featured softer instruments, but on Sick Boy their style has been revamped.
About the Writer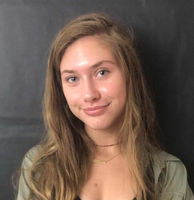 Arden Estep, Opinions Editor
Arden Estep is participating in journalism at McIntosh High School for her third year in a row. Last year, she enjoyed being the Opinions and Editorials...