Estep's Music Critiques
Hang on for a minute...we're trying to find some more stories you might like.
The past monrth has hosted more than just the releases of largely-anticipated movies including Bohemian Rhapsody, Fantastic Beasts, and The Grinch. This month has also claimed a large deal of musical success as numerous albums have been released. Not only have albums been dropped, but they've been wildly successful as well. Some of these top-grossing albums include Earl Sweatshirt's Some Rap Songs, Lil Peep's Come Over When You're Sober, Pt.2, and The 1975's A Brief Inquiry into Online Relationships.
Late rap artist Lil Peep's sequel to his 2017 album Come Over When You're Sober was released Nov. 9. However, this new album isn't the only work that the late artist has been revived through. Since his fatal overdose in 2017, he's also appeared in songs with the late XXXTentacion and various other rappers. This album is 13 tracks of bitter love songs and a window into his mind. The song "16 Lines" insights what will come of his rocky relationship after he dies. The lyrics hit harder than he originally intended as he passed only months after it was fine-tuned. The album has been heartbreaking, yet gratifying for Lil Peep fans to bask in.
Earl Sweatshirt's new album Some Rap Songs that was released Nov. 30, has so forth graced the ears of listeners. However, this came as no surprise to his long-time fans as he's been releasing music since age 16. This 15 track album had been widely looked forward to as it had been over 3 years since Earl Sweatshirt's last album drop in 2015. Throughout the album, there are a variety of vocals guests. Just a few of those featured guests are his mother and his late father. The built-up anticipation was well lived and worthwhile as not a word is wasted nor a note held second too long.
England's alternative band The 1975 released their third album also on Nov. 30 titled A Brief Inquiry Into Online Relationships. The 15 track album clocks in at just under an hour of worldly and politically charged lyrics while still examining the intimacy of relationships- especially ones with online foundations. Lead singer, Matty Healy, has never been timid about expressing his views of American politics despite his roots in Manchester, England. Their 2016 album divulges similar issues Healy has with President Trump, but focuses more on personal aspects of his life such as his mother's battle with depression and his grandmother's death. This new album, while remaining political with various Trump quotes such as "Thank you Kanye, very cool," focuses primarily on the what the band has interpreted love to be. Healy sings, "Distract my brain from the terrible news," explaining that love is the only outlet he has to avoid his mind from wandering to the turmoil 2018 encompasses. However, some excellent news is that they're on tour right now and will be performing in Atlanta on May 18, 2019.
About the Writer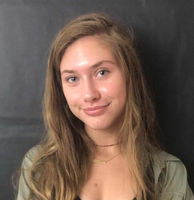 Arden Estep, Opinions Editor
Arden Estep is participating in journalism at McIntosh High School for her third year in a row. Last year, she enjoyed being the Opinions and Editorials...