Estep's October Music Critiques
Hang on for a minute...we're trying to find some more stories you might like.
October has been vastly successful in terms of new music and growing artists. To name just a few, Soulja Boy, Azizi Gibson, Sheck Wes, and Twenty One Pilots have all come forward with new albums this month. While nothing can compete with Soulja Boy's early 00s music, and Azizi Gibson unfortunately falls in that same boat, Sheck Wes generated some bops as he proclaimed himself "Sheck Jesus" in "Mudboy." Twenty One Pilots, without a doubt couldn't measure up to their older hits, but still managed to bring forth their typical angst-charged music. Those that stood out from the crowd were Jaden Smith, Boy Pablo, and Joji.
On Oct. 4, Jaden Smith released "Goku" via Twitter as a teaser of an upcoming project scheduled to drop Nov. 17. The song will be on his album The Sunset Tapes: A Cool Tape Story which will drop exactly one year after his last album Syre was released. This previous album skyrocketed him into fame, and his project on the way goes to show that he's only continuing to grow and expand as an artist. These 3 minutes only shed a hint of light onto Smith's capabilities as an artist and The Sunset Tapes will surely be a project to keep an eye on next month.
Boy Pablo's new Soy Pablo EP, consisting of 7 songs, clocks in at just under 20 minutes of light and airy tunes that are impossibly hard not to bob your head along to. While nothing on this Oct. 5 album is revolutionary per se, Boy Pablo stays true to his indie pop roots with breezy guitar chords and melancholy youthful lyrics like "How could you lie to me time and time again? I'm getting tired of everything you say, but I want you anyway," from the album's second to last song "Losing You." However, this album, for the most part, lacks a unique sound so it tends to go stale after a few too many listens. Despite this minor downside, Boy Pablo executes the album with minimal flaws and it's worth a listen. If you're a fan of artists like Clairo, Rex Orange County, or Gus Dapperton, these spacey tunes should be right up your alley.
8 track long BALLADS 1 from Joji was released Oct. 26 and has already been receiving praise and traffic. The album is just over half an hour of chillhop with melodramatic lyrics stemming from a broken heart. In the second track Joji choruses, "When I'm around slow dancing in the dark, don't follow me. You'll end up in my arms." Over the course of the album, Joji recalls his grievances with true love and acknowledges he isn't ready for or capable of such a fate at this point in time. Joji's style is consistent throughout his work and can even be traced back to his most recent album titled In Tongues, but with a more pop-like flare. Even the music videos are comparatively similar. Joji uses an abundance of deep, dark blue hues to emphasize his sadness and the vibrant contrast between red and white to stand out from the mix of somber colors. Fans of Frank Ocean, BROCKHAMPTON, and the late Lil Peep would most likely have a positive response to Joji's newest music as it highlights the misfortune of the mistreated and broken-hearted.
About the Writer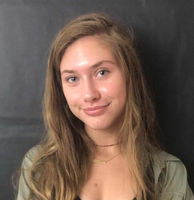 Arden Estep, Opinions Editor
Arden Estep is participating in journalism at McIntosh High School for her third year in a row. Last year, she enjoyed being the Opinions and Editorials...