Estep's September Music Critiques
Features Editor Arden Estep offers entertainment options from around the world.
As a whole, 2018 has produced some exceptional albums. In January, Børns released Blue Madonna, Migos came out with Culture II, then February followed with MGMT's Little Dark Age, and The Weeknd dropped My Dear Melancholy in March. The months to follow would include new music from Cardi B, Kali Uchis, J. Cole, Post Malone, A$AP Rocky, Frankie Cosmos, Drake, and The Internet. In short, 2018 has already been an extremely successful year for dozens of artists and has left fans pleased.
September has not been an exception, for the most part, that is. This month alone BROCKHAMPTON, $uicideboy$, and Alt-J have all released albums. This is BROCKHAMPTON's latest release as of 2017, $uicideboy$'s first album in 2 years, and Alt-J's first as of 2018.
BROCKHAMPTON's fourth studio album has not been a disappointment. While some, including myself, had feared that they would stray from their traditional style, this album, titled iridescence stayed consistent to their previous, while managing to still have a fresh feel. Each track blends beautifully into the next- even though they sound entirely different from each other.
The album was announced less than a month before member Ameer Vann was accused of sexual misconduct and abuse. His fellow members expressed their distress on the subject, but ultimately decided the best decision was to remove him from their team. On their newly released album, despite the absence of one of their primary vocalists, they highlight issues such as mental health, sexual discrimination, and growing up on the borderline of poverty.
Member Joba, in particular, stunned listeners on various tracks. Touching base on his mental health, Joba belts: "Praise God, hallelujah! I'm still depressed. At war with my conscience." On the matter of sexuality, Kevin Abstract pays tribute to his boyfriend in "SOMETHING ABOUT HIM" as he choruses, "There's something about him. His attitude is like magic." In "DISTRICT" Matt Champion raps on the subject of money pertaining to eternal happiness: "Big house and big car don't add up when you die alone." The album has been receiving praise worldwide, and just goes to show BROCKHAMPTON is unstoppable and on the rise.
$uicideboy$ album I Want to Die in New Orleans, that was scheduled to drop in 2017, has finally been released to the world mid 2018. Many have already claimed it as a knockoff of the late 90s musical movement in Memphis as they sample a wide variety of tracks from that era throughout the album. On top of that, the lyrics are nothing new: melancholy-filled pleas that center on self-loathing and substance abuse. The boy$ have managed to produce, yet again, another album with cries for help and violent imagery, but, with that being said, not every song is a complete flop. "Carrollton" uses a variety of samples, and these said samples can probably be attributed to why the song wasn't half as bad as some of its fellow tracks. With excerpts from Juicy J, Wet Cigarette, and Grey Ape, the track manages to stand out from the rest. However, with lyrics such as "Now my eyes always hurting, wiping tears with diamond rings" and "Slam my face against a pill to crush it," the song's potential dies – quite literally – as it blends back in with their other subpar tracks.
(A)lt-J's new album REDUXER is a hip-hop spin-off of their 2017 album RELAXER. The 11 song reinterpretation of their last year album features popular hip-hop and R&B artists such as Danny Brown, GoldLink, and Pusha T. Over the span of 11 songs, the group has shown off their versatility and capability. alt-J is currently on tour in Europe, but will hopefully be West soon.
About the Contributor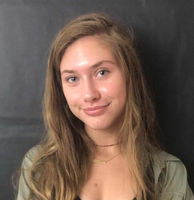 Arden Estep, Opinions Editor
Arden Estep is participating in journalism at McIntosh High School for her third year in a row. Last year, she enjoyed being the Opinions and Editorials...