They're the story: the McIntosh Trail wins awards at state press association's spring convention
Seven student journalists won ten individual awards at GSPA in March
Under the leadership of four student editors, the 2022-2023 staff of the McIntosh Trail Student News Site brought home eleven individual awards and an overall rating of "Excellent" from the Georgia Scholastic Press Association's spring workshop and awards at the University of Georgia in Athens on March 27.
"The fact that we brought home so many awards for our writing this year is so gratifying. I always feel so satisfied when we win awards because it proves to the staff themselves and other that the McIntosh Trail is talented and powerful," Editor-in-Chief Rebekah Bushmire (11) said.
Trail editors Bushmire, Managing Editor Lulu Vitulo (11), News Editor Savannah Hayes (11) and Opinions Editor Marjorie Smedley (12) made a number of changes to the program before the school year begain.
"We've really been focusing on varying what stories we put out, to make sure we're covering as much content as possible. Our evaluation last year showed we were lacking in certain areas, like covering sports, so we did our best to fill those in. Another big goal for us after seeing our evaluation was making sure we had a structure in place so that everyone's story went under extensive editing, to catch those small mistakes and keep everything in AP style,"  Vitulo said.
The staff puts in a lot of work to create, write and publish stories in a timely manner. A lot of time is dedicated to every story and all of the staff plays a role in accomplishing something for the website.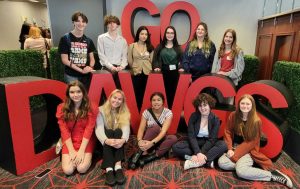 "I strive to write my best quality work as quickly as I can so that the information I am writing can get out in the most timely manner. Many staffers put a lot of effort into their work and often work both in and out of class to ensure they are turning out the most efficient news. Both I and my fellow editors often are editing stories two or three times to further ensure the correctness of each and every story. I would have to say that the Trail is definitely on its way to becoming a well-oiled machine," Hayes said.
First year staffers are just beginning to learn about high school journalism and how to write successful stories. This year's purpose is to take risks, learn from them and grow.
"I have learned so much from my first year in high school journalism. I've built relationships, had amazing experiences and learned how to write successful stories," freshman staff writer Grace Lovejoy said.
Dedication and hard work, even when just starting out, can allow for a great outcome.
"I entered one of my feature profiles which was the first story I ever wrote and one of my social media posts, and I won awards for each of them," staff writer and junior Luke Soule said. "I was honestly surprised that I won, but I think it shows that although a small staff can underestimate itself, persistent and hard work can undermine those negative connections. I think all of us did great work this year."
In addition to newsworthy events affecting students and the community, the Trail leaned into using social media as a primary journalistic tool this year.
"We have focused more on the timeliness of our social media posts and further how they relate to McInotsh students at the time we publish them. It is also important that we keep these things in mind when we write stories as well," Hayes.
"I was so excited when the title of social media editor was introduced to me because I would be managing different posts and topics that I'm not used to seeing on my own Instagram like sports and news and have opinions from the entire staff. Everyone on the staff has been so passionate about interacting with the McIntosh student body through our social platforms and curating social media posts," Social Media Editor and junior Adwa Umoya said.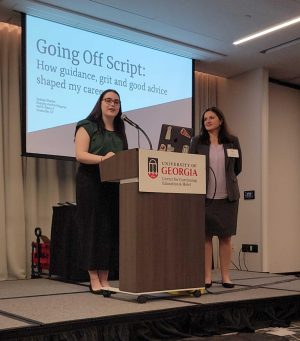 Going forward, the Trail is looking to expand their publicity by reaching more students and pursuing more stories.
"You can always improve. You're never done learning and you are never done getting better at something. That applies to the Trail, too. We did a fantastic job this year and it was reflected as such in our awards but we do still have areas of improvement. I think we are going to look to boosting our sports coverage since it is pretty much bare at the current moment. We are also looking to expand on our multimedia components like podcasting and video reporting. Those are things I would like us to work on more this coming year."
The staff is optimistic for the future.
"Next year, I hope to guide new staffers through their first year of high school journalism. I also hope to learn and grow more next year." – Grace Lovejoy said.
Bushmire is proud of the work the staff has achieved this year and is also looking to the future.
"I am so proud of everyone [on staff] who won an award and I really hope getting an award reassures them that they are doing everything right and that they are even more capable than they believe. Every single person on this staff has so much power and they are all capable of changing the world with their words," Bushmire said.
The awards slideshow can be viewed here.
The McIntosh Trail's first edition was published on Oct. 6, 1982 and has continually functioned as both a print publication and a digital one for more than 40 years servicing the student body of McIntosh High School and its community.
Editor's Note: Students with an interest in leadership, project management, social media, writing, photography, digital art, graphic design and marketing can reach out to Trail Adviser Shanon Woolf via email at [email protected] to find out more about joining the Trail staff for the 2023-2024 school year. 
Donate to McIntosh Trail - The Student News Site of McIntosh High School
Your donation supports the student journalists of McIntosh High School. Your contribution will allow us to purchase photography equipment and cover our annual website hosting costs.
About the Photographer
Shanon Woolf, Adviser
Shanon Woolf advises two award-winning journalism programs at McIntosh: the online news site The Trail and the Legend yearbook.

Woolf is the Georgia...