Hope you have your lucky charm. . . St. Patrick's day is right around the corner
Every year St. Patrick's Day is celebrated on March 17, and while it is not a Federally recognized holiday, it is widely recognized in the United States. Many people wear green and think about the luck of leprechauns and four-leaf clovers on this day, but often Americans do not know where the celebrations originated.
"My favorite part [about the holiday] is wearing green because it's my favorite color. [I'll] be wearing green because I'd rather not get pinched or get others mad for pinching them," junior Thomas Wagoner said.
St. Patrick was the patron saint of Ireland, however, he was born in Britain in the fourth century and moved to Ireland when he was about 16 years old. He became interested in Christianity and started teaching about it to others in Ireland. Soposidley it is said that he converted many of the people who lived there at the time to Christianity and now is celebrated on St. Patrick's Day, which is around the day he died.
According to history.com, St. Patrick's started in Ireland around the ninth century with a Roman Catholic feast. The holiday is now recognized all throughout the world, mostly celebrated in the United States, Australia, and Canada but quite popular in Japan, Singapore and Russia.
The first St. Patrick's Day parade actually did not take place in Ireland, but rather in America on March 17, 1601. It was held in a Spanish colony that is now St. Augustine, Florida. Another one of the nation's oldest parades was held in Savannah, Georgia around 1813. This was due to the increasing number of Irish immigrants at the time.
"I have been in and actually seen a St. Patrick's Day parade. I'm from Savannah, Georgia so it's a really big part of the culture there every year. St. Patrick's Day was always something fun to look forward to. We also used to do this church breakfast and everything would be dyed green. It was a good fundraising event," junior Amelia Ruth said.
From there the festivities continued, Irish soldiers in the English military marched New York City on St. Patrick's day in 1772 to honor the patron saint. Parades continued with great applause in Boston and other American cities. Throughout the next 35 years, patriotism in American immigrants of Irish descent continued rising to the "Irish Aid" societies.
Some of the Irish Aid societies in 1848 in New York united to form one big official St. Patrick's day parade in New York City. The parade is the world's oldest and largest in the United States including more than 15o thousand participants. Tons of people line the 1.5-mile route to watch over five hours of parade festivities. Some other cities like Chicago, Philadelphia in addition to Savannah also share the holiday through some extravagant parades. The New York City parade was one of the first large activities that were canceled in March 2022 due to COVID-19. Luckily though the parade was once again allowed in 2022 and this year.
Outside of the U. S. specifically in Ireland, the holiday was originally a spiritual religious tradition. In 1995 though the government of Ireland started a national campaign surrounding the holiday to increase tourism and show off Irish culture throughout the world.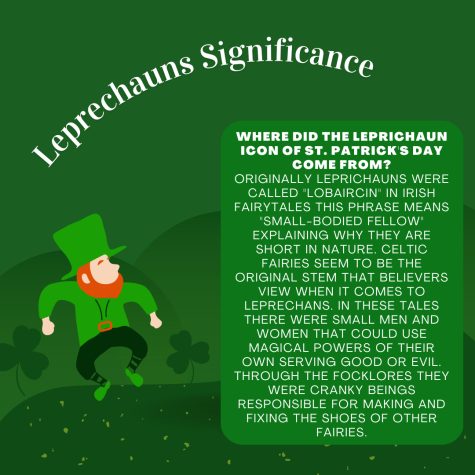 "My favorite part is annoying people who don't wear green. I actually don't think I have seen a St. Patrick's Day parade. Most of the time I'd wear at least a green shirt but for this one, I'm going to be skiing so I won't be wearing any green," senior Aaron Maeder said.
"I don't really celebrate St. Patrick's Day other than wearing green, but seeing everyone celebrate together is nice. I don't really have any green clothes so I'll just be stuck with a green hoodie on St. Patrick's Day," freshman Leo Gil said.
Some traditions surrounding St. Patrick's day include annual parades including drums and bagpipes which first came from Scottish and British armies not Irish. Some food that is traditional is Irish soda bread, corned beef and cabbage. The reason that green is commonly worn on the day is because Ireland's nickname is "The Emerald Isles" and also the green strip on their flag is another reason for this prominent symbol.
Donate to McIntosh Trail - The Student News Site of McIntosh High School
Your donation supports the student journalists of McIntosh High School. Your contribution will allow us to purchase photography equipment and cover our annual website hosting costs.
About the Contributor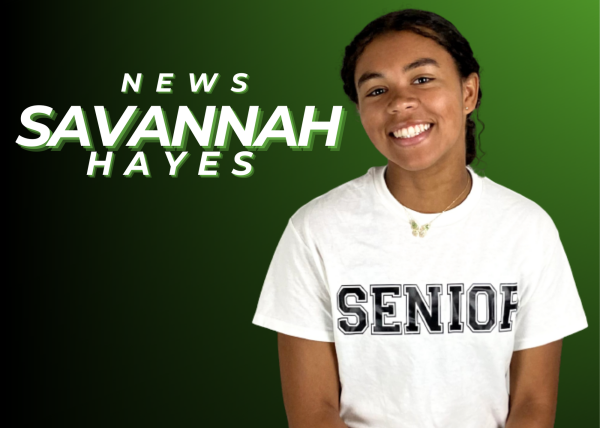 Savannah Hayes, News Editor
McIntosh High School senior Savannah Hayes is serving her second year as the McIntosh Trail's news editor. Hayes has been on the Trail staff since 2021...