Fire destroys landmark building, home to popular market and bakery
Heirloom Market & Bakeshop, declared total loss; none injured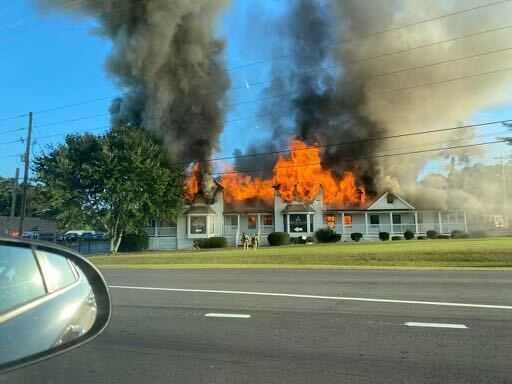 Heirloom Market Co. & Bakeshop, located off of Highway 54 West in Sharpsburg Georgia, caught fire the night of Wednesday, Sept. 21.
The workers inside the store called 911 to report the fire after 6 p.m. Highway traffic was blocked for an hour while workers worked to contain the fire. According to Coweta County Fire Rescue, there were no injuries. The cause of the fire is still under investigation.
The Newnan Times-Herald reported the structure is a total loss.
According to 11Alive, the structure has housed at least 50 vendors including the bakery and boutique. The building housing Heirloom Bakery was built in 1970 by Willie Albert Thompson. Before it was Heirloom Bakery it was also the Jasmine Tea Room and then Collectors Corner, when finally it became Heirloom Bakery in 2019.
In a Sept. 1 Facebook post, Heirloom shared they were nominated as a Georgia Business Journal "Best of Georgia" for "Best Donuts" and "Best Boutique."