MHS Student Media Students Earn Places on NSPA Honor Roll
Yunju Lee, Managing Editor/Features Editor
May 27, 2021
Staffers from McIntosh's two student media programs, the McIntosh Trail and The Legend received the Honor Roll from the National Scholastic Press Association (NSPA).
This year, from the Trail, senior Yunju Lee and juniors Jordyn Mobley, Nakia Harmon, Izzy Pullias and Landon Wilde received the honor. From the Legend, juniors Emma Bellantoni and Natalie Spellman and sophomore Kait Kruzan received the honor. The students were recognized during the FCBOE board meeting on April 11. Last year, Spellman was the only one to be on the honor roll.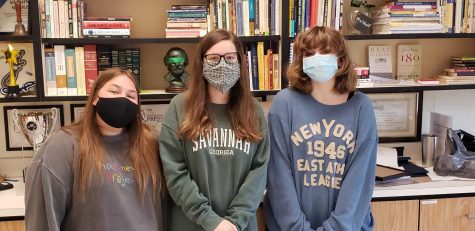 "It felt really good to be on the National Scholastic Press Association Honor Roll for the second year in a row," said Spellman. "It's nice to have an honor roll that showcases journalism."
In order to be recognized on the honor roll, students must have served on a publication for at least two years and have a 3.5 GPA or higher on a 4.0 scale. About 1,400 students were inducted into this year's honor roll. Of those, 28 were from Georgia and of those 28, eight students were from McIntosh.
"I am very honored to be accepted into the NSPA," said Wilde. "It makes it very special that only one staffer was accepted last year and now we have so many staffers being inducted this year. It's proof of how well-rounded our publication is this year."
This year has been an interesting year for most of the staffers because of COVID-19 and inconsistent schedules. Many staffers faced challenges in many different aspects, from getting photos, interviewing people and identifying people.
"This year has been one of our hardest as we have been creating a yearbook through a pandemic and the changes in schedule," said Spellman. "We have also suffered several quarantines that have made it hard for the staff to get what they need but in the end this year has given us a great opportunity to create a better book."
Still, the staff have found ways to work around the difficulties and still get the quotes and photos they need for their respective publications.
"In my opinion, this year has been the best year for our publication and the awards, recognition, and honor roll inductees are all proof of that," said Wilde. "I have been on the staff since my sophomore year and I have really noticed the staffers find their place and really make an impression on the program."
Staffers on both publications are looking forward to the next year on their staff and encourage students to join.
"If you are interested in journalism, I would definitely take Yearbook," said Bellantoni. "It simulates life in the real word; such as deadlines, unhappy customers, and coverage of sports, fine arts, and academics."
"Always be curious,always ask questions, and always be true to who you are," said Harmon.