Standing Out from Yearbooks in the Past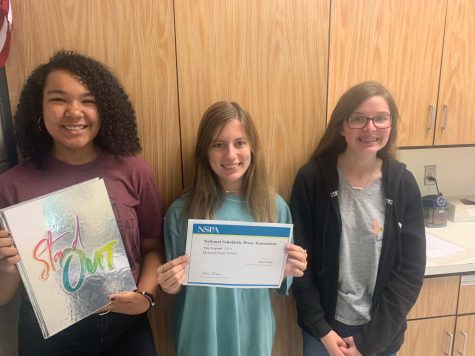 Imagine looking back at your high school self twenty years from now while memories that had long escaped your mind come flooding back. Yearbooks are almost like time capsules in that way. Almost every high school makes yearbooks for their student body, but very few win awards for their book. The McIntosh yearbook from last year, "Stand Out" did just that. "Stand Out" won a first-class rating from the National Scholastic Press Association. 
Shanon Woolf, the yearbook teacher at McIntosh, taught all 26 of the new staff members the basics of creating a yearbook. It took a lot of on-the-spot learning and collaboration to come together and complete the book. 
"We were teaching photography, while we were shooting and we were writing, while we were under deadlines," Woolf said. 
One of the staff writers Mrs. Woolf had the opportunity to teach was senior Jaylen Smith, who is now the Editor in Chief for the yearbook staff. Smith describes the time and effort it took to make such an amazing book by saying, "I know that personally, I spent many Saturday afternoons at Starbucks working on divider layouts… another staffer and I stayed after school one afternoon until almost 8:00 working on the Marching Band spread." 
The yearbook staff is looking to the future. They are striving to make this year's edition even better than the last. With constructive criticism from the NSPA, Woolf says that the staff is trying to capture more moments as they happen instead of posing for a photo. "We want to work harder to capture the moment," Woolf said. 
It's hard work to make an award-winning book Smith reminds us, "They don't know about the blood, sweat, and tears that go into each page."