10th Annual "Scarfsgiving" Celebration
The annual AP Language tradition of "Scarfsgiving" was held Thursday, Nov. 15, 2018. Shery Kearney's AP Lang students enjoyed exchanging scarves that encompassed their peers' personalities. The tradition began 10 years ago in 2008 when Kearney's class organized it as a surprise while she was out having shoulder surgery. Upon returning after surgery, everything was put together and they promptly gave her a pink paisley scarf in the commencement of the first Scarfsgiving.

Early in November, students selected names at the random. Despite the fact that there was plenty of time to prepare, some students scrambled to gather the perfect scarf for the name they had drawn. However, other students prepared diligently for this event. "The person's name that I selected mentioned that she liked the color purple and dogs so I bought her a scarf from Amazon with purple wiener dogs," said Junior Ty Schmidt.

Not only did the students receive scarves, but they also enjoyed merry conversation before Thanksgiving break and a recess from three-day day college talk with the counselor. "The past three days consisted solely of college-based material," said junior Irene Song.

"

Scarfsgiving was a great way to have a cool down after all that stress"

— Irene Song

had been built up."

Scarfsgiving is a 10-year tradition. "The purpose of Scarfsgiving is to build camaraderie," said Kearney. This "day of fun before final exam grind," as she explained it, always ends with a group selfie from each of Kearney's AP Lang classes.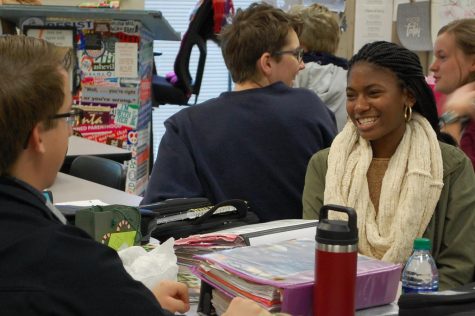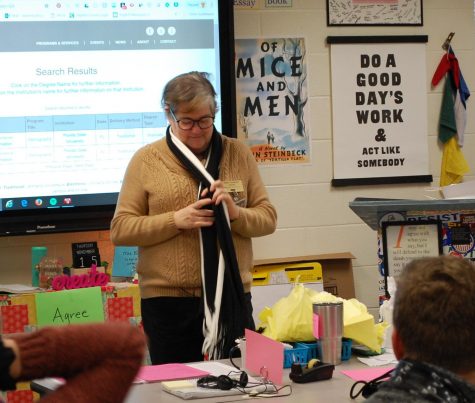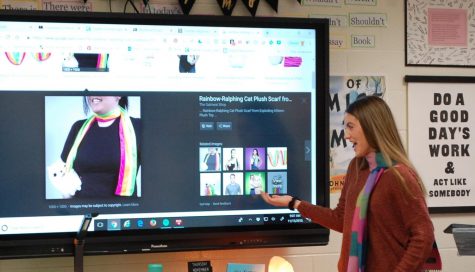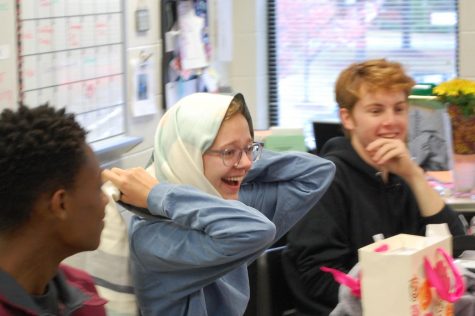 About the Contributor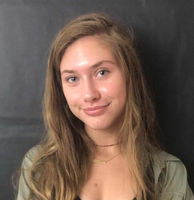 Arden Estep, Opinions Editor
Arden Estep is participating in journalism at McIntosh High School for her third year in a row. Last year, she enjoyed being the Opinions and Editorials...