AD Leon Hammond returns to MHS after kidney transplant
Donor Alan Reeves also had a successful recovery
On Feb. 24, 2023, athletic director Leon Hammond had a kidney transplant at Piedmont Hospital with an organ donation from former McIntosh student resource officer Alan Reeves. In a Zoom interview, while recovering at home, Hammond spoke about recovering.
"After surgery, I had a setback. I was doing this procedure called plasmapheresis up until last week… which was unexpected. They do it every day the week after surgery in the hospital. That was very similar to dialysis except they are basically taking five liters of plasma off and replacing it with donor plasma. That first month is tough after a procedure like that, just because you can't bend over or lift anything," Hammond said.
According to the Oxford Dictionary, plasmapheresis is a method of removing blood from one's body and turning it into plasma, then placing it back inside the body.
But Hammond was able to make it through with the help of his family.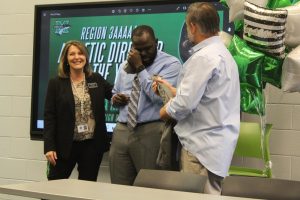 "My wife is a surgeon, so she understands a lot of what is going on. She's done a transplant before when she was in residency, so she understands the medication piece."
But for his daughters, it was a little bit of a struggle.
"The initial struggle was that I was supposed to come home one day after surgery, but I was in the hospital for an additional week. It was a struggle for them not to be able to see me because the floor that I was on didn't allow people under the age of fourteen. I couldn't see them when I was on that floor."
Hammond missed a lot about McIntosh.
"Even though some may say I am tough on them, I just enjoy working with kids. It keeps you young. I miss my co-workers too. And seeing all of the success that the spring sports have been having, you know," Hammond said. "I just really miss out on getting to see kids do the sports that they love. I do definitely miss that and just because this is one of the best years we have had athletically as an entire athletic program. I've had a number of kids email me just to check on. A number of kids from the athletic advisory Committee will message me on group me. Those always make me smile. My goal is supposed to be back on May fifteenth."
Hammond's first day back to McIntosh was indeed May 15.
Kidney donor Alan Reeves had adjusting to do post-surgery.
"I lost 20 pounds as a result of this surgery. I'm not going to go back and try to do the original job that I was doing before because after having a surgery like this you have to determine what you are going to do when you get back. I've determined that the best thing for me to do would be to take long walks and get outside with my kids a little more than I had before," Reeves said.
"
I was getting a little stir-crazy at home and I'm just glad to see the kids and staff and interact with people. It's just a good feeling.
— Leon Hammond
"I was overly committed to my job before this, I mean, to the point that I'd bring work home. I started to tell myself, there's nothing in this world worth getting stressed out over. I have taken a step back and thought I don't have to do some of the things I did before, as I am kind of close to the end of my career. I'm trying to shuffle my thoughts and my actions to be a little bit more centered on family. I have a couple years until I can retire. And I want to make sure I'm doing right by my family until then."
Reeves also had to pay attention to how he could resume his normal functions and routines.
"They gave me a six-week guide on how long it would take to get back to normal. I do a lot of heavy weight lifting for my job and run quite a bit, but I have started to tell myself that … I just want to be fit with my cardio and be able to do more push-ups and sit-ups and pull-ups, but I have decided that my body just needs to be able to handle me being normal," Reeves says.
Hammond's first day back at McIntosh was May 15, like he said he would.
"I'm excited to be back. I was getting a little stir-crazy at home and I'm just glad to see the kids and staff and interact with people. It's just a good feeling," he said.
Donate to McIntosh Trail - The Student News Site of McIntosh High School
Your donation supports the student journalists of McIntosh High School. Your contribution will allow us to purchase photography equipment and cover our annual website hosting costs.