Kidney Buddies For Life
Athletic Director Leon Hammond wins Region 3A Athletic Director of the Year… and wins kidney donation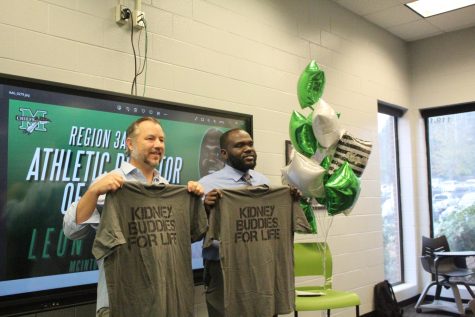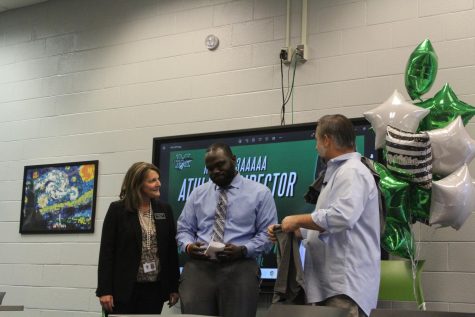 McIntosh Athletic director, Leon Hammond won the athletic director of the year award for AAAAA region 3 this year, but that wasn't all he got.
McIntosh Principal Maggie Walls decided that they were going to throw a surprise party for Hammond to tell him the good news. He was getting the kidney he needed. Mr. Hammond was diagnosed ten years ago but was officially put on the waiting list for a kidney transplant a month ago. His kidney has been donated by the father of a McIntosh student and former School Resource Officer, Alan Reeves.
"My wife was looking on Facebook one day and saw a story that somebody needed a kidney. The story's headline said, McIntosh. My wife graduated from there so she looked into the story. And she said Mr. Hammond needed a kidney, and she said have you ever thought about donating a kidney. I said no, but I started to look into and I had to go through a bunch of testing and that's how it got started. It started off with several people… as the process continued I was one of the only people left," Reeves said.
Walls was in charge of keeping the news a secret. "When Mr. Reeves asked to meet with me I thought it was something about his son or about McIntosh in general and when he told me [that he was donating his kidney to Mr. Hammond] I was overwhelmed, and then he told me I needed to keep it a secret," Walls said.
Some of the teachers and administrators didn't even know about the surprise until they got to the "meeting."
Mr. Hammond was completely surprised – twice.
"Mrs. Walls tricked me. She told me we were having our team meeting that we have every Tuesday, so I came with my laptop and spreadsheets ready for that. I actually knew when she started talking outside the award that I knew about for two weeks, I thought it was weird. Then I noticed Mr. Reeves over there because he reached out to me in the summer. He wished me luck and told me he was seeing if we could be a match. When I saw him over there I thought it was weird and then I saw my mother-in-law and I was like, 'What is going on? Why is everyone here?' Honestly, it was really disbelief, as I said earlier the average process to get a kidney is eight to 10 years. I've been on the list for a month and typically people don't get it this early. Honestly, I was overwhelmed, happy and blessed. Now I don't have to worry about it every day. I don't have to worry about what I have to do for my kids or family. It put my mind at ease," Hammond said.
McIntosh students notice how important Hammond is to the school.
"Mr. Hammond is always making jokes and making up nicknames for students. He's my adult at the school that I go to when I want to talk or have a problem. I appreciate him always being there for me," senior Camille Garret said.
Donate to McIntosh Trail - The Student News Site of McIntosh High School
Your donation supports the student journalists of McIntosh High School. Your contribution will allow us to purchase photography equipment and cover our annual website hosting costs.