"Can" it be done? Junior Sarah Arriola creates wearable art out of cola cans
Arriola is going to world finals in international Junk Kouture fashion competition
McIntosh junior Sarah Arriola is competing as a national finalist in the international competition Junk Kouture. Sarah made a dress out of recycled materials such as aluminum cans and plastic bags. In January she will be flying to Abu Dhabi to compete.
"Brainstorming the design is my favorite part. Especially when I'm able to communicate the picture in my head into real life," Arriola said.
Chloe Davis, another MHS junior, has been helping Arriola as a consultant; she helped collect materials like plastic bottles, cardboard, plastic bags, soda cans and tabs. Davis also helped with giving ideas to Arriola in the designing process, and she will do Arriola's makeup for the finals.
"
The inspiration behind the dress was to represent the two cultures I've grown up around, my Latin roots in Uruguay and my home here in Georgia.
— Sarah Arriola (11)
"The inspiration behind the dress was to represent the two cultures I've grown up around, my Latin roots in Uruguay and my home here in Georgia. To have this opportunity is very important to not only me but also my family, I am proud of where I came from and again it makes me happy to design something that represents that," Arriola said about the inspiration for her dress.
Design and the visual arts always has people wondering if they can improve on their technique or overcome some challenges if they could go back in time and recreate their artwork.
"I'm not sure I'd change anything, the only thing I can think of is adding accessories and maybe I'd alter the skirt a bit," Arriola said.
The competition, which was founded in Ireland, has received thousands of participants and produced thousands of designs since 2010. It has also achieved 60 packed shows and prevented 40,000 kilograms of waste from going to landfills.
Arriola had mixed feelings about going on such a far away trip. "I feel like I should be nervous, but I guess it hasn't hit me yet because I've been so concentrated on getting ready for the trip," Arriola said.
As a seventeen-year-old high school student, Sarah has a great opportunity. The Junk Kouture contest is open to thirteen to eighteen-year-olds in secondary school and it challenges them to make outfits out of 100 percent recycled materials.
"I know I want to study fashion design in college, so this competition was the perfect opportunity to add something to my portfolio. Mrs. Green received an email from Junk Kouture and asked my art class if anyone was interested," Arriola said in response to why she entered and how she found out about the competition.
McIntosh art teacher Carisa Green shared the contest with Arriola and her other art students earlier in the year. When designing a dress, the artist must first sketch it out as the most important step, then they have to go through the process of collecting the materials to create it off the paper.
"
The competition has achieved 60 packed shows and prevented 40,000kg of waste from going to landfills.
— Junk Kouture
"Before I could start anything I had to come up with the design and set up social media accounts. Using the design I was able to list all the supplies and materials I believed I would need, which I began collecting and asking for donations. As I collected materials, I did as much research as possible to create some sort of strategy for building the dress. After getting enough materials I was able to begin the creation of the actual dress and submit it. My biggest challenge was not having almost any fashion-related sources other than the internet, I had to rely on my own research to help me through the process of the dress. Time was also a challenge as I was trying to balance this competition and school, and also collecting the materials was tough," Arriola said about the challenges she faced while creating the dress.
The world finals in Abu Dhabi are a live event and will be held on Wednesday, Jan. 11, 2023.
"I think I'm more stressed than I am nervous, I want to make sure that I give this competition everything I got while I have the opportunity to do so. I am very glad that I'll have Chloe with me because if anything goes wrong, we are very good at bouncing ideas off of each other and coming up with good solutions, also having a friend always helps," Arriola said.
Donate to McIntosh Trail - The Student News Site of McIntosh High School
Your donation supports the student journalists of McIntosh High School. Your contribution will allow us to purchase photography equipment and cover our annual website hosting costs.
About the Contributor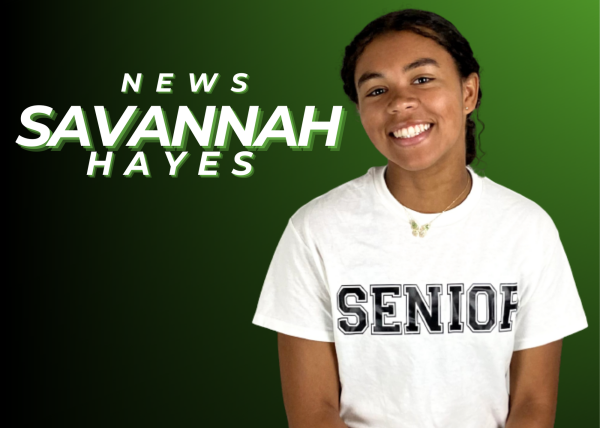 Savannah Hayes, News Editor
McIntosh High School senior Savannah Hayes is serving her second year as the McIntosh Trail's news editor. Hayes has been on the Trail staff since 2021...