Senior Legacy: Bailey Lopez
1- How have you made McIntosh a better place, what was your contribution to campus? (sports, personal relationship, etc.)
"I have made it better by lightning up the day of my classmates and team mates. I feel like I bring positive energy to the people around me."
2- How have you made the McIntosh Trail a better program, what was your contribution to the publication?
"I add a fun element of the MHS trail. I remind people that it is okay to have a fun time and not be stressed out"
3- What college do you plan on attending?
"I plan on attending Shorter University in Rome, Georgia."
4- What will you be studying?
"I will be studying economics."
5- If you have plans other than college, what are they?
"College. I'm playing soccer in college as well."
6- What are some words of wisdom you have for returning staffers or newcomers to the Trail?
"I would say get your stories done early so (adviser) Ms. Woolf can get them on the newspaper in time. Have patience with all staff members."
About the Writer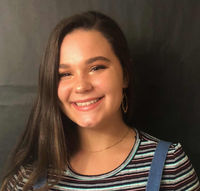 Lexie Holder, Staff writer
Ninth grade student-athlete Lexie Holder finds a balance between her Mcintosh softball schedule and contributing to journalism as a new member of the Mcintosh...