Swim Team Splashes into the Christmas Spirit
Arden Estep, Features Editor
December 13, 2018|174 Views
Hang on for a minute...we're trying to find some more stories you might like.
The McIntosh swim team hosted their secret Santa gift exchange on Thursday, Nov. 6. The party was held at first-year swim team member's house, Harrison Baro. It was held as a potluck and the members brought various Christmas desserts such as cookies and candies, along with pigs in blankets, Chick-fil-A nuggets, chips and salsa, and fruits and veggies. The swim team members sipped Coca-Cola as they played each other in air hockey, Pac-Man, and other games such as Rampage and Galaga. Sophomore and host Baro said, "I felt truly honored to host such an amazing team. It's only my first year, but I already feel like part of the family."
After eating and playing games, the team members watched The Lovely Bones. Senior Nicole Lavigna, as Baro put it, was "deeply disturbed" by the movie. After the festivities, they exchanged secret Santa gifts. Weeks prior to the Christmas party, swimmers had drawn names. In the weeks building up to the party, they prepared by shopping for their counterparts.
"I bought my teammate, Hayley Weronick, a facemask, a bath bomb, and a pair of fuzzy socks for the gift exchange," said first-year swim team member and sophomore Gabby White. "It was super fun to see her reaction to the gift and I hope we'll continue on with this tradition in the years to come." Among the gifts swim team manager Weronick received, other gifts that were given and exchanged include a throw blanket, an entire bag of ramen cups, and even a box of cheese-balls.
After the secret Santa gifts, the team competed in an ugly sweater contest. Only five people geared up in their ugly Christmas attire, making the competition easy for senior Sidney Bowen to dominate. "I bought my jacket from Walmart over a year ago and was super surprised when I won," said Bowen. "It did light up though so that probably helped me."
On top of the festivities, the team was able to come together and enjoy " a bonding experience that won't be forgotten," said first-year swim team member sophomore Emma Cain, making this year's swim team Christmas party was one for the books.
About the Contributors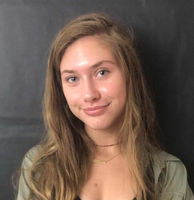 Arden Estep, Opinions Editor
Arden Estep is participating in journalism at McIntosh High School for her third year in a row. Last year, she enjoyed being the Opinions and Editorials...