Annual Trunk or Treat
Hang on for a minute...we're trying to find some more stories you might like.
The McIntosh Marching Band hosted their annual Trunk Or Treat Monday, October 29 in the teacher parking lot. With the season coming to an end, some of the members came together to hang out with each other and eat candy. Most of the people who came dressed up in costumes. There was a costume contest involved as well. The Drum majors Brett Goss and Brooke Owen took home first place when they dressed up as each other.
Freshman, Sanaa Wright, became very creative with her costume. "I didn't know we had to stay after school so I didn't bring a costume," said Wright. "I told my friend, Carolyn, this and she said the same thing. I asked her if she wanted to be each other and she said yes. So we took pictures of our faces in the library and switched clothes." said Wright.
Sophomore Elijah Smith dressed up as Spiderman. "I love Spider-Man and I wanted to dress up as him, but not fully. So I just brought my Spiderman t-shirt and my mask," he said.
Band Booster parents came and decorated their cars to pass out candy. Overall the Trunk Or Treat was a very enjoyable social event for the Marching Band to remember in their final moments of the season.

About the Writer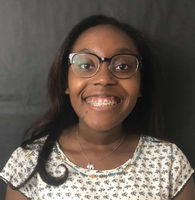 Jordyn Mobley, Staff writer
Jordyn Mobley is a freshman starting her first year on the Mcintosh Trail. She participated in the newspaper staff and morning announcements in elementary school. She is continuing to broaden her horizons by working with the Trail. In her free time, she is a part of the McIntosh Marching Band. She has been playing the violin for three years and is about to start her fourth. She won the English Award in fifth grade for being an extraordinary writer. She was in the Beta Club throughout middle school and is now an upcoming ambassador. Jordyn enjoys listening to her favorite songs and hanging out with friends. On the weekends, you can catch her at the movie theater watching the newest comedy and action movies. She also loves arts and crafts. She believes that it gives her an opportunity to show creativity. Jordyn is most excited to begin what is her first step of the journey to becoming a journalist.