Senior football running back Mason Green, also known as "the flipper" based on how he takes the field at games, was injured at the McIntosh home football game against Woodland HS on Sept. 1.
Green had possession of the ball and when his teammate attempted to block an incoming opposing player, there was a missed blocking assignment and Green got hit.
"I was running the ball and one of our linemen missed his block, which happens, this a rare occasion that they missed their block. I tried to bounce the ball outside and the safety came downhill and he picked me up, and he jumped, and when he jumped we both landed on my shoulder," Green said.
In that moment, Green's collarbone was injured.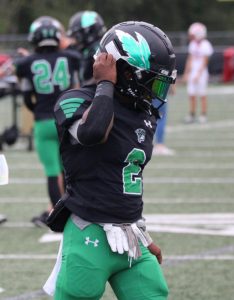 "The doctor said I can't do anything for six to eight weeks but we're praying that I can get back for senior night to play," Green said.
Green is no stranger to injury due to his involvement in other sports.
"I'm kind of used to getting injured. My first year running track, I pulled my hamstring. I've learned to just bounce back from keep playing," Green said. 
Although currently injured, he's still committed to the part he plays for the team. Green is on the sidelines cheering the team on, refilling water bottles or fulfilling requests. 
"I attend practices, show up and show my face. Everything I would do if I wasn't injured," Green said. 
As Green recovers he still can't fully make physical contact yet.
"They still let me participate in everything. Even though they limit me to things. They won't let me hit or anything during practice. But I know if I want to go out there and run plays, they'll let me run plays and stuff like that."
I attend practices, show up and show my face. Everything I would do if I wasn't injured."
— Mason Green (12)
Despite the temporary setback, Green still finds ways to contribute on gamedays even if he is off the field.
"I'm on the sidelines; I cheer them on. Refill water bottles. If [players] need anything they know they can ask me," Green said.
Heading into the Homecoming game against Northgate tonight, Green is optimistic about returning to the field. 
"I'm almost fully healed. Back in two weeks," Green said.
Senior night is 7:30 p.m. Oct. 27 against Northside Columbus.