Varsity Lady Chiefs Basketball Sidelined Due To COVID-19 Cases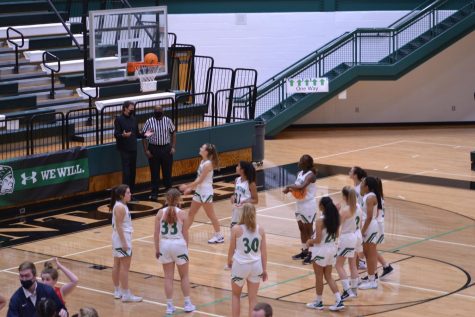 The McIntosh Lady Chiefs varsity basketball team has been sidelined after three players tested positive for COVID-19. The team was on a three game winning streak to start out the season beating Providence Christian Academy, Arlington Christian School, and Union Grove High School.
The team now has to adjust to life in quarantine while putting a pause on their season. "We were all so excited to be doing so good," junior center Olivia Henders said. "It was disappointing to have to go into quarantine but we all have decided to make the best of it and come out better than before."
"It's definitely tough to be back in quarantine," junior guard Bella Duiser said. "Especially because we were just getting into the basketball season and everything was starting to feel a little bit more normal again. I think that because of this we will play harder because we now know just how fast it can all be taken away."
"Going into the season I met with the other region ADs (athletic directors) and we understood that COVID-19 and the quarantine protocols and procedures that there will potentially be times when teams do get quarantined," MHS Athletic Director Leon Hammond said.
These cases all came before principal Dr. Lane announced on December 2 that the school will be operating under a synchronous hybrid schedule due to the new surge of COVID-19 cases at McIntosh High School.
All of the girls on the team are now quarantined and their game at home against Starr's Mill on December 8 is to be rescheduled.
"Regional games are a top priority," Hammond said. "Those will be made up regardless of what happens. Because we are so early in the season, we still have break coming up, we are able to reschedule the non-region games against Newnan, Northside and Starr's Mill."
"We have a hardworking group of girls," head coach Rick Fontaine said. "It definitely hurts our practice time, however, we are rescheduling the games missed. Hopefully it does not affect our season too much."