Chiefettes Compete in Nationals
Hang on for a minute...we're trying to find some more stories you might like.
The Chiefettes dance team traveled to The Walt Disney World Resort in Orlando, Florida during the first week of February between Thursday, Jan. 31 and Tuesday, Feb. 5 to compete in the annual Universal Dance Association (UDA) Nationals. Each year the UDA Nationals draws in dance teams nationwide to compete for various titles- prizes such as trophies, plaques, and blue ribbons were awarded to the teams that placed. The Chiefettes competed in three divisions: jazz, poms, and game day. The team proved their strengths by making semi-finals with their routines. However, the game day division was a newer category in which they didn't place as well as they did in their stronger areas such as pom and jazz.
"The judges have their own preferences and our routine didn't seem to fit it," said third-year Chiefette junior Dominique Savain. They came out as 21st in the nation and are "looking forward to keep pushing to achieve our goals for the state competition, and seasons to come," Savain said.
When the Chiefettes weren't busy on stage, they got to explore Disney World and sightsee. After months of practicing for nationals, they were able to enjoy time together as teammates, but off the stage and without their uniforms. Three-year Chiefette junior Liz Raymer said,
"
"My favorite part of the entire trip was spending time with the girls and making great memories, but hopefully we can make finals next year."
— Liz Raymer
The Chiefettes season is nearly over, but the girls are still practicing without ceasing before the season comes to a real end. Senior Kate Strickland, and two-year Chiefette, said, "Nationals is something I look forward to the entire year. My last year as a Chiefette was successful in terms of nationals, but I'm excited to see what the girls have in store for next year. Being around such accomplished dancers from across the country is inspiring to us and propels us to perform to our best ability."
About the Contributors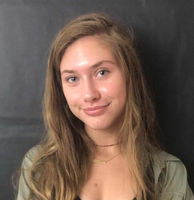 Arden Estep, Opinions Editor
Arden Estep is participating in journalism at McIntosh High School for her third year in a row. Last year, she enjoyed being the Opinions and Editorials...