Tennis Tryouts
Hang on for a minute...we're trying to find some more stories you might like.
The Spring Sports season has begun and students at McIntosh are working to prepare for tryouts. Both girls and boys tennis teams started their seasonal tryouts the last week of January. They were held at the Peachtree City Tennis Center throughout the week. The boys had their tryouts on Jan. 22-24 and the girls originally planned on having their tryouts on Jan. 24-25. However, due to inclement weather conditions, the girls' tryouts were postponed to start until Jan. 24 and Coach Anderson and Beall changed the dates and moved the second half of tryouts on Jan. 31. All new girls were expected to be at Glenloch tennis courts at 6:30-8 for their last day of evaluations.
Students who want to be part of the tennis team need to bring a foundational level of the sport with them. "Kids will be expected to know the basics like standard forehands, backhands, serves, and volleys," said Coach Allen Beall.
Sophomore Lana Gardner has been playing tennis for just a little under a year, but is still anxiously anticipating tryouts and the possibility of becoming a member on McIntosh's team. Gardner said, "I have never played tennis for McIntosh before, but I'm really excited and I hope I make the team nonetheless."
The tennis team will host a variety of student from different backgrounds. There will be returning faces along with fresh ones. One longtime player is freshman Livy Hooper. Hooper has played for 11 years now and hopes to continue doing what she loves and bringing her skills to the table for the McIntosh tennis team. "I'm super excited for the new season to be able so I can play against and with people that I have never played before," said Hooper. "Usually, I just play tournaments by myself so I'm very excited to finally be a member of this team."

About the Writer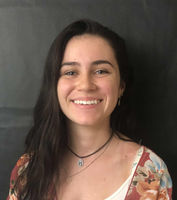 Marissa Shockley, Staff writer
Marissa Shockley is a sophomore at McIntosh High School. Her hobbies are photography, writing, and editing photos and videos. Extracurriculars that she...