The Only Girl on the Wrestling Team: Jocelyn Wang
Hang on for a minute...we're trying to find some more stories you might like.
Jocelyn Wang is defying the odds by being the only girl to join the wrestling team this year. She is breaking down barriers that many people thought could not be broken. For example, many people think that wrestling is only a male sport. Who said girls can't wrestle?
Jocelyn first joined the wrestling team because one of her friends was going to wrestle this year.
"At first I was hesitant to contact the coach, but I talked to one of my other friends and he told me that wrestling was a 'male sport' and that I shouldn't do it," Wang said, "That only motivated me more."
She enjoys watching independent combat sports, so that was a big factor in her decision to join the team. She wrestles boys that are bigger in size and height. That doesn't stop her. It only makes her work harder and strive to do her best.
Jocelyn's experience so far has been a learning process.
"Being honest, I can't say I look forward to practice every day, but it's all part of the experience," Wang said, "I'm constantly learning new things and doing what I never thought I could."
The wrestling team practices 11 and a half hours Monday through Friday.
"Even though it's pretty draining sometimes, I really enjoy it and am so glad I started," Wang said.
She believes that gender should not matter when deciding what sport to play. If there is something you want to do, you should go out and do it despite of what is supposedly "normal".
"My advice to other girls is that being a girl shouldn't limit your abilities," said Wang, "In fact, it should empower you to do your best," Wang said.
"
"My advice to other girls is that being a girl shouldn't limit your abilities.In fact, it should empower you to do your best.""
— Jocelyn Wang

About the Writer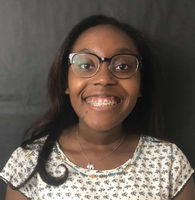 Jordyn Mobley, Staff writer
Jordyn Mobley is a freshman starting her first year on the Mcintosh Trail. She participated in the newspaper staff and morning announcements in elementary school. She is continuing to broaden her horizons by working with the Trail. In her free time, she is a part of the McIntosh Marching Band. She has been playing the violin for three years and is about to start her fourth. She won the English Award in fifth grade for being an extraordinary writer. She was in the Beta Club throughout middle school and is now an upcoming ambassador. Jordyn enjoys listening to her favorite songs and hanging out with friends. On the weekends, you can catch her at the movie theater watching the newest comedy and action movies. She also loves arts and crafts. She believes that it gives her an opportunity to show creativity. Jordyn is most excited to begin what is her first step of the journey to becoming a journalist.