Lady Chiefs Beat the Buzzer Against Troup County
Hang on for a minute...we're trying to find some more stories you might like.
Girls' varsity basketball won in an extraordinarily close game against Troup County last Tuesday, November 27. Troup had the lead had until the last 40 seconds of the game.
Senior Rylee Calhoun hit a three-pointer to tie the game. Troup County had the ball and McIntosh fouled which gave Troup the chance for two free throws. Fortunately for the Lady Chiefs, both free throws were missed.
Freshmen Carry Consolino got the defensive rebound off the miss giving the Chiefs the opportunity to win the game. With 20 seconds left, Coach Fontaine called a timeout in order to draw up a play for a shot. The Lady Chiefs went back on and could not score. With five seconds left on the clock and a tie between the teams, Coach Fontaine called another timeout to draw up a new play aimed at securing the Lady Chiefs win. Hustling back on the court, McIntosh ran the play and Chief Senior, Kennedi Miller, took a wide open shot with 0.5 seconds left at the free-throw line and made it, which secured the Lady Chiefs for a win 40-38 over Troup County.
"The Score didn't really faze us in the beginning," said Miller. "Coach Fontaine kept telling us to keep fighting and run the offense and we'd come back. There were even times we didn't make a shot at the end of a play and Coach would yell, 'Don't confuse the effort with the result,' and eventually, Troup started falling because we stayed positive regardless of happened," she said.
"As far as the last play of the game," said Miller, "we ran a play coach Fontaine drew up and it was because of my teammates I was able to make the shot."

About the Writer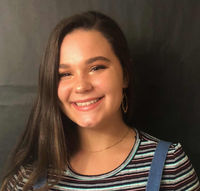 Lexie Holder, Staff writer
Ninth grade student-athlete Lexie Holder finds a balance between her Mcintosh softball schedule and contributing to journalism as a new member of the Mcintosh...