Varsity Volleyball enters state tournament
The Lady Chiefs are the 2017 State Champs. They hope to do it again in 2018.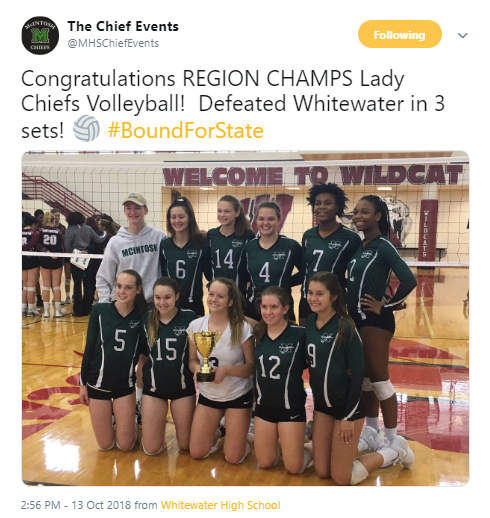 Last year, the Varsity Volleyball team ended their 2017-18 season with a state championship. It was a hard fought season that paid off. The Lady Chiefs had try-outs at the beginning of the 2018-19 school year, and many players returned in hopes of winning back-to-back state championships. The volleyball team is practicing hard in order to protect their state title.
The first game of the season was on Thursday, August 16 against the Newnan Cougars and St. Pius X. The team got the win over Newnan in just two sets; however, after three sets against St. Pius X, they ultimately fell to the Golden Lions giving the Lady Chiefs their first loss of the season. "We felt we had to come out strong because of winning the championship last year and the loss showed us what we need to improve on to win state this year also," sophomore Claire Lewis said about the loss.
The team plans on winning state again this year and after the loss to St. Pius X, Lewis said, "We are going to work even harder than we were before and work on specifics of the game that are crucial to win this state championship."
Two weeks before the state tournament, the Lady Chiefs are number one in the region. They have yet to lose a game to a team in our region, and they have only lost three games in the season out of thirty-three games. The Lady Chiefs are number one in their class leading the second place team by a win percent of .049. They have only lost ten out of seventy-five sets the entire season, and are currently on a win streak of eighteen weeks.
The state tournament started on October 20 at MHS, where the Lady Chiefs won 3-0 against Locust Grove. The Lady Chiefs will continue their road to State on Tuesday, Oct 23, and will be the 2nd round of the State tournament.