JV soccer teams take on East Coweta and Whitewater
Both JV teams took on East Coweta at home on Monday, Feb 29. The girls team had lost to East Coweta 1-0 on Feb. 12 and East Coweta returned undefeated for a second challenge. About 15 minutes into the game, sophomore Natalie Keohane dribbled down the field and scored. The Lady Chiefs held their lead throughout the first half and led at halftime 1-0. Just minutes into the second half, freshman Grace Podolski scored. Soon after, East Coweta had a corner kick and scored with 20 minutes left in the game. Following their first goal, East Coweta scored again, The final score was 2-2.
The boys' tied to East Coweta 0-0 back on February 12. Freshman Baba Agbaje scored the first goal of the game with 14 minutes left in the first half. The Chiefs were up at halftime 1-0. Sophomore Salam Agbaje capitalized on the Chiefs' lead to put them up 2-0 with 23 minutes left in the second half. The Chiefs won 2-0.
Both teams traveled to Whitewater High School for a one day tournament. Each team played two games. The girls played first at 10:30 a.m. against Harris County. The boys then played at noon against Douglas County. The girls' last game was at 1:30 p.m. against Carrollton. The boys' last game was at 3:30 p.m. against Alexander.
Sophomore captain Sally Gillanders said, "The games were awesome. We fought hard to win both games. I'm really proud of this team."
Freshman captain Erik Malasek said, "We played hard. It was a good performance the first game winning 6-1. Although we lost the second game 1-0 on a stupid mistake, I still feel we played our best."
About the Contributor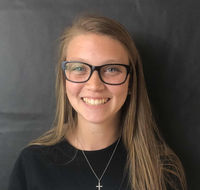 Kamryn Torr, Editor In Chief
Senior Kamryn Torr has been a part of the Trail staff for 4 years. After being a staff writer her freshman year and sports editor her sophomore year, this...