Girls receive spots on varsity soccer team
Girls varsity soccer tryouts were from Jan. 18 to Jan. 20.
Coach Marcia Clark now has seven seniors, seven juniors, six sophomores, and one freshman on her roster for the upcoming season. The seniors include Veronica Cappas, Taylor Butler, Christina Britt, Abby Ott, Anna Brachey, Harley Obstinik, and Caroline Laux. The juniors include Savannah Soles, Madi Boyles, Jovanna Cruz, Lindsey Licitra, Abby Burke, Chandler Witucki, and Caroline Chang. The sophomores include Emily Lopez, Emma Whitson, Haley Mason, Hannah Ellison, Kayla Wilcox, and Lauryn Phillips. The only freshman to make varsity was Mackensi Rohn.
The varsity soccer season kicks off for the girls' team with a scrimmage against Walton High School at 5:30 p.m. on Friday, Feb. 5.
About the Writer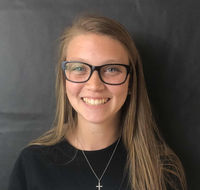 Kamryn Torr, Editor In Chief
Senior Kamryn Torr has been a part of the Trail staff for 4 years. After being a staff writer her freshman year and sports editor her sophomore year, this...