Football season has arrived
---
Both the college football season and the National Football League seasons have begun. For many students it is their favorite time of year to spend time with friends and family.
Many students at McIntosh are excited that football season is finally back. Since they live in the South, many people support the the southeastern conference (SEC). Freshman Hannah Elwell, who is a huge Georgia Bulldogs fan, said, "I get to sit down with my family and enjoy an exciting game of football. And, the excitement flowing around the town is really fun to be a  part of. The thing I enjoy about football season is being able to hang with family and friends (and tailgating of course). Going to games is also really fun to do with friends."
Also part of the SEC fan base, freshman Maury Weaver is a big Auburn Tigers fan. He said, "Football season is the best time of year because it brings that electric feeling to everybody and the trash talk with your friends. No sport is as hype and exciting as football. I enjoy tailgating and watching high school football with my friends. No other sport has a better atmosphere than a high school football game."
Others at McIntosh, including freshman Kyle Wright, support the Big Ten conference.  An Ohio State fan, Kyle said, "Football season is the best cause Ohio State is number one. and you get to spend time with your family and friends while watching your favorite teams every weekend screaming and jumping for joy when they score.  When asked what he enjoys the most, Kyle said, "You get to tailgate and wake up early while waiting in a parking lot eating burgers off the grill. Playing football in the parking lot with friends and family is always fun, too."
About the Contributor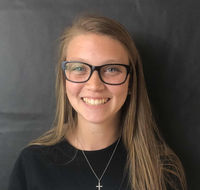 Kamryn Torr, Editor In Chief
Senior Kamryn Torr has been a part of the Trail staff for 4 years. After being a staff writer her freshman year and sports editor her sophomore year, this...